Coca-Cola (CCEP) European Partners has Maintained an Upward Trend Amidst the Selloff
With all of the selling that has taken place in the global equity markets in recent months, it is a rarity to find a stock that hasn't suffered a significant pullback. One company that has seemingly remained above the fray is Coca-Cola European Partners (NYSE: CCEP).
Looking at the daily chart for the stock we see that it has been moving steadily higher since late May, and a trend channel has formed to mark the highs and lows. The stock closed at $47.33 on Monday, but it is the $46 area that really got my attention.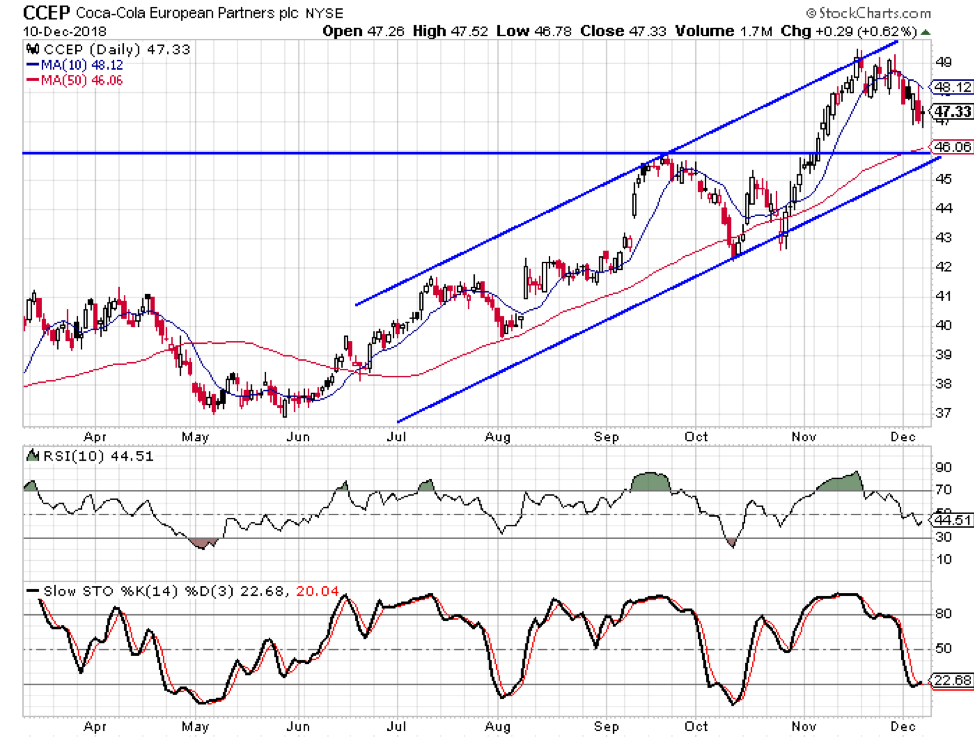 The $46 range has three different forms of potential support all gathering in the same area. The area marked a temporary resistance point in September and it is common for former resistance levels to serve as support on any pullbacks. There is also potential support from the 50-day moving average which is at $46.06 presently, and there is the lower rail of the upwardly-sloped trend channel.
The overbought/oversold indicators are at similar levels to what we saw at the beginning of August. The 10-day RSI is low, but not in oversold territory. The daily stochastic readings reached oversold territory and then made a bullish crossover. From the August 2 low through the September 21 high, the stock gained +15.7%.

The fundamentals for Coca-Cola European Partners are somewhat mixed. The earnings growth has been in the average range with an average growth rate of 12% over the last three years. Sales have grown at a greater rate with the average annual rate of 30% over the same three-year period.
The return on equity is at 16.2% and the profit margin is at 12%. The stock is currently trading at a P/E ratio of only 18 and that is certainly attractive compared to how high some other ratios are currently.