Home Depot Hitting Critical Support Level
Home Depot Hitting Critical Support Level
I am a bit unorthodox when it comes to looking at stocks and the moving averages that I use. For instance, many people look at the 200-day moving average, but I have never understood that. Why 200 days? It is a random round number that doesn't really represent a pertinent time period.
When it comes to weekly charts I like to look at 13-week, 52-week, and 104-week moving averages. These three time periods represent one quarter, one year, and two years. Those time periods seem relevant to me.

With these moving averages in mind, Home Depot (NYSE: HD) is hitting its 104-week moving average at this time and it is only the third time in the last five years that the moving average has come in to play.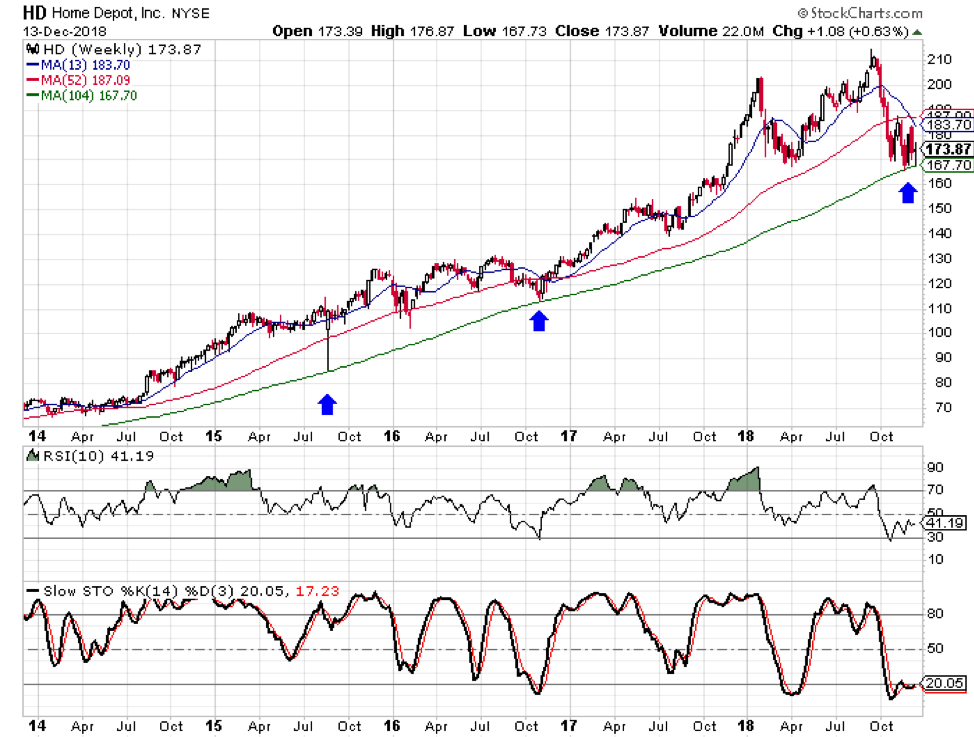 The stock is oversold based on the weekly stochastic readings and the 10-week RSI was in overbought territory a few weeks ago. There has only been one other instance in the last five years where both of these oscillators were in overbought territory at the same time and that was in October 2016.
If the stock should drop below the 104-week moving average, it would be a very bad sign for it. There is minor support in the $150 area and the next layer of support after that would be in the $130 range.
Home Depot has great fundamentals with an EPS rating of 94 from Investor's Business Daily and an A in the SMR rating system. This means the company has seen earnings growth over the last three years that is better than 94% of companies. The SMR rating measures sales growth, profit margin, and return on equity. An A rating is the highest rating a company can get.