After former Vice President Biden was predicted the winner of the U.S. presidential election on Saturday morning, stock futures opened higher on Sunday evening. The gains were across the board for the major U.S. indices and they ranged from 1.5% to 2.0%. Then on Monday morning, Pfizer (PFE) announced results from its vaccine trials and they showed a 90% success rate in blocking the virus. This news sent markets soaring higher all over the globe and U.S. index futures jumped anywhere from 4% to 7% on the Russell.
Once the market opened we saw huge moves from certain industries and sectors. There were big moves on both sides as some stocks jumped 15-20% and others fell just as sharply. Investors reacted as if the vaccine was going to be available tomorrow and that everyone in the world was going to rush out to get it.
Some of the biggest movers to the upside were the airlines stocks. I pulled up United Airlines (UAL), American Airlines (AAL), and Delta Air Lines (DAL) on Tickeron in order to check how these companies rated in both the fundamentals and the technical indicators. When I ran the comparison, the first thing that jumped out at me was how the three stocks were doing at midday on Monday.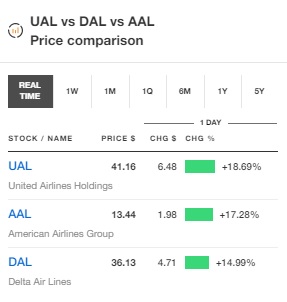 We see United up 18.69%, American up 17.28%, and Delta up 14.99%. And I get it, the news about an effective vaccine is a big game changer and the first step for life getting back to normal when it comes to traveling and such. But again, the vaccine won't be available for another few months and even then it's not like people are going to jump on planes as readily as they did before the pandemic.
If we look at the fundamental ratings for these three companies, there are very few positive ratings—only one for United and two for American. American has a strong SMR Rating and a good Valuation Rating. The only positive for United is the Seasonality aspect. There aren't any positive ratings for Delta.
All three stocks have poor Outlook Ratings and all three score a 100 in the Profit Vs. Risk Rating and that is the worst possible score. All three also score poorly in the P/E Growth Rating. United and Delta both score very poorly in the SMR Ratings.
The stocks score much better in the technical analysis indicators with all three receiving four bullish signals. United has five bearish signals to offset the four bullish signals. Delta and American both have six bearish signals to cancel out the four bullish signals. All three stocks have bullish signals in three areas—the Stochastic Indicators, the Weekly Trend, and the Bollinger Bands.
The full breakdown appears below, but I personally feel these moves are irrational, knee-jerk reactions.