Lululemon (LULU) Looking to Bounce as Earnings Loom
Casual clothing manufacturer, Lululemon Athletica (Nasdaq: LULU), has dropped sharply in the last few months. The stock has fallen over 28% from its high to the recent low. The good news is that the stock may have found support earlier this week in the $118 area.
Looking at the weekly chart we see that the stock shot up back on June 1, moving from $105 to over $122. After that jump, the stock consolidated for almost two months before dipping down to the $118 area at the end of July. Earlier this week the stock dropped down to $118.52 before bouncing back and that could mean the $118 area is now acting as support.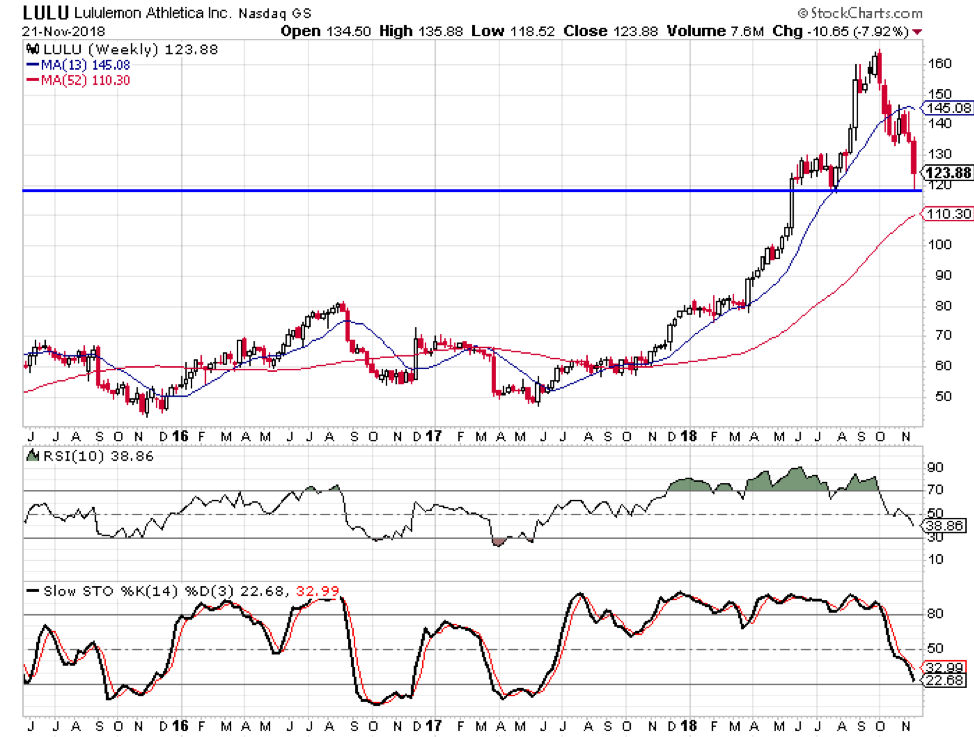 You can also see that the weekly stochastic readings are the lowest they have been in the last 18 months and so is the 10-week RSI.
Lulu is scheduled to release earnings again on December 5, with analysts expecting the company to report earnings of $0.69 per share on revenue of $735.9 million. The company reported EPS of $0.56 in the same quarter last year, meaning expectations are for earnings growth of 23.2%. In the last earnings report, earnings grew by 82%. Earnings have averaged annual earnings growth of 18% over the last three years.
It is worth noting that the stock has gapped higher after each of the last four earnings reports. Will it do so again in December?