Microsoft (MSFT) at $334.29: A Steady Climb to $347.66 Predicted
As we delve deeper into the second quarter of 2023, Microsoft Corp (MSFT, $334.29) is solidifying its place as a staple of growth in the Packaged Software Industry. The industry as a whole has seen an incredible amount of movement in recent months. A.I.dvisor, our leading AI tool, recently analyzed 919 stocks within this sector and found that a significant 73.91% (679) charted an uptrend while 26.09% (240) moved in the opposite direction.
Discover the revolutionary potential of AI-driven trading decisions with Tickeron's advanced technology.
Microsoft, however, managed to secure a spot amongst the top quarterly gainers, leaping forward by an impressive 26.21% to $334.29 per share. Historically, our AI found 234 similar cases in which MSFT's price jumped over 15% within a three-month period. In 74% (174 out of 234) of these cases, Microsoft continued to grow in the subsequent month.
Taking into account these historical trends, our AI predicts that the odds of an uptrend continuation for Microsoft in the coming month are 87%. These results are significant for the investment community as they indicate a robust upward trend for MSFT with a high probability of sustaining the uptrend.
As an added insight, A.I.dvisor anticipates a 4% rise for MSFT within the next month, placing the predicted share price at $347.66 or potentially even higher. This forecast suggests that Microsoft's growth is not a temporary phenomenon but a consistent trend that is expected to continue.
This AI-based analysis provides an advantageous tool for both new and seasoned investors. The approach allows for a prediction model that is not just based on numerical data but also takes into account historical patterns and industry trends. Such an analysis can guide investors in making informed decisions and developing an investment strategy.
It's important to remember, however, that all investments come with inherent risks. These predictions, while based on reliable data and AI models, should not be the sole factor when considering your investment choices. As always, one must consider their financial situation, risk tolerance, and investment objectives.
As we proceed further into Q2 of 2023, Microsoft Corp (MSFT) seems to be leading the way with promising growth rates and an expected uptrend. It will be fascinating to see how these predictions play out and whether Microsoft will indeed reach the predicted $347.66 in the coming month.
MSFT sees MACD Histogram just turned negative
MSFT saw its Moving Average Convergence Divergence Histogram (MACD) turn negative on September 20, 2023. This is a bearish signal that suggests the stock could decline going forward. Tickeron's A.I.dvisor looked at 56 instances where the indicator turned negative. In of the 56 cases the stock moved lower in the days that followed. This puts the odds of a downward move at .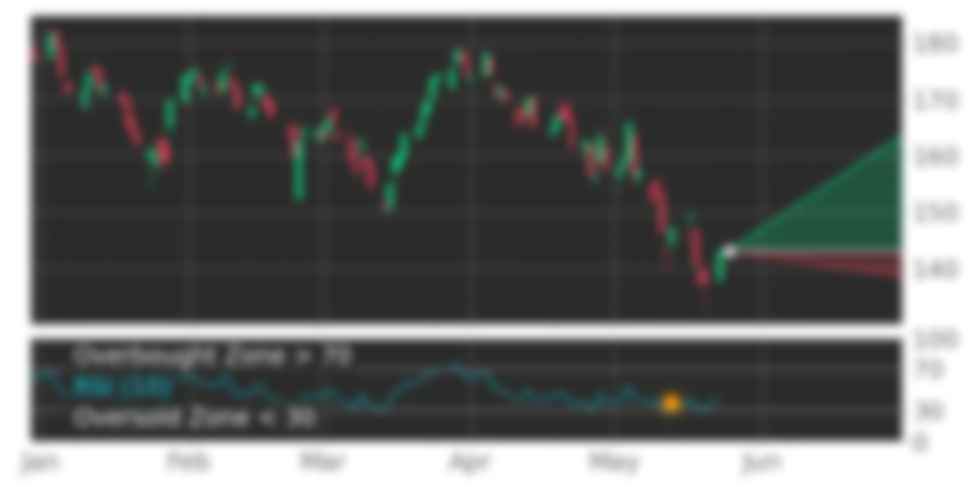 Technical Analysis (Indicators)
Bearish Trend Analysis
The Momentum Indicator moved below the 0 level on September 19, 2023. You may want to consider selling the stock, shorting the stock, or exploring put options on MSFT as a result. In of 94 cases where the Momentum Indicator fell below 0, the stock fell further within the subsequent month. The odds of a continued downward trend are .
MSFT moved below its 50-day moving average on September 15, 2023 date and that indicates a change from an upward trend to a downward trend.
The 10-day moving average for MSFT crossed bearishly below the 50-day moving average on September 21, 2023. This indicates that the trend has shifted lower and could be considered a sell signal. In of 18 past instances when the 10-day crossed below the 50-day, the stock continued to move higher over the following month. The odds of a continued downward trend are .
Following a 3-day decline, the stock is projected to fall further. Considering past instances where MSFT declined for three days, the price rose further in of 62 cases within the following month. The odds of a continued downward trend are .
Bullish Trend Analysis
The RSI Indicator points to a transition from a downward trend to an upward trend -- in cases where MSFT's RSI Indicator exited the oversold zone, of 15 resulted in an increase in price. Tickeron's analysis proposes that the odds of a continued upward trend are .
The Stochastic Oscillator shows that the ticker has stayed in the oversold zone for 7 days. The price of this ticker is presumed to bounce back soon, since the longer the ticker stays in the oversold zone, the more promptly an upward trend is expected.
Following a 3-day Advance, the price is estimated to grow further. Considering data from situations where MSFT advanced for three days, in of 339 cases, the price rose further within the following month. The odds of a continued upward trend are .
MSFT may jump back above the lower band and head toward the middle band. Traders may consider buying the stock or exploring call options.
The Aroon Indicator entered an Uptrend today. In of 378 cases where MSFT Aroon's Indicator entered an Uptrend, the price rose further within the following month. The odds of a continued Uptrend are .
Fundamental Analysis (Ratings)
The Tickeron Profit vs. Risk Rating rating for this company is (best 1 - 100 worst), indicating low risk on high returns. The average Profit vs. Risk Rating rating for the industry is 90, placing this stock better than average.
The Tickeron SMR rating for this company is (best 1 - 100 worst), indicating very strong sales and a profitable business model. SMR (Sales, Margin, Return on Equity) rating is based on comparative analysis of weighted Sales, Income Margin and Return on Equity values compared against S&P 500 index constituents. The weighted SMR value is a proprietary formula developed by Tickeron and represents an overall profitability measure for a stock.
The Tickeron PE Growth Rating for this company is (best 1 - 100 worst), pointing to outstanding earnings growth. The PE Growth rating is based on a comparative analysis of stock PE ratio increase over the last 12 months compared against S&P 500 index constituents.
The Tickeron Price Growth Rating for this company is (best 1 - 100 worst), indicating steady price growth. MSFT's price grows at a higher rate over the last 12 months as compared to S&P 500 index constituents.
The Tickeron Valuation Rating of (best 1 - 100 worst) indicates that the company is slightly overvalued in the industry. This rating compares market capitalization estimated by our proprietary formula with the current market capitalization. This rating is based on the following metrics, as compared to industry averages: P/B Ratio (11.299) is normal, around the industry mean (19.852). P/E Ratio (32.362) is within average values for comparable stocks, (152.598). Projected Growth (PEG Ratio) (2.299) is also within normal values, averaging (2.633). Dividend Yield (0.009) settles around the average of (0.088) among similar stocks. P/S Ratio (11.062) is also within normal values, averaging (74.491).
Notable companies
The most notable companies in this group are Microsoft Corp (NASDAQ:MSFT), Oracle Corp (NYSE:ORCL), Adobe (NASDAQ:ADBE), Salesforce (NYSE:CRM), Intuit (NASDAQ:INTU), SERVICENOW (NYSE:NOW), Uber Technologies (NYSE:UBER), Activision Blizzard (NASDAQ:ATVI), Palo Alto Networks (NASDAQ:PANW), VMware (NYSE:VMW).
Industry description
Packaged software comprises multiple software programs bundled together and sold as a group. For example, Microsoft Office includes multiple applications such as Excel, Word, and PowerPoint. In some cases, buying a bundled product is cheaper than purchasing each item individually[s20] . Microsoft Corporation, Oracle Corp. and Adobe are some major American packaged software makers.
Market Cap
The average market capitalization across the Packaged Software Industry is 8.08B. The market cap for tickers in the group ranges from 291 to 2.33T. MSFT holds the highest valuation in this group at 2.33T. The lowest valued company is BLGI at 291.
High and low price notable news
The average weekly price growth across all stocks in the Packaged Software Industry was -0%. For the same Industry, the average monthly price growth was -6%, and the average quarterly price growth was 1%. DTRK experienced the highest price growth at 100%, while WOWI experienced the biggest fall at -98%.
Volume
The average weekly volume growth across all stocks in the Packaged Software Industry was -30%. For the same stocks of the Industry, the average monthly volume growth was 31% and the average quarterly volume growth was 1%
Fundamental Analysis Ratings
The average fundamental analysis ratings, where 1 is best and 100 is worst, are as follows
Valuation Rating: 52
P/E Growth Rating: 74
Price Growth Rating: 63
SMR Rating: 83
Profit Risk Rating: 89
Seasonality Score: -17 (-100 ... +100)