Packaged Software Stocks are Among the Highest Rated Stocks
The software industry has performed extremely well over the last couple of years. Many of the stocks are among the highest rated when it comes to strong fundamentals and the price performance reflects that.
Looking through a bunch of weekly charts recently, there were two software companies that really jumped out at me. Intuit (INTU) and Salesforce.com (CRM) both jumped out, but for different reasons. Intuit was overbought and has pulled back a little over the last few weeks after it hit the upper rail of a trend channel. The pullback has been just enough to move the stock out of overbought territory based on the weekly stochastic indicators and the 10-week RSI.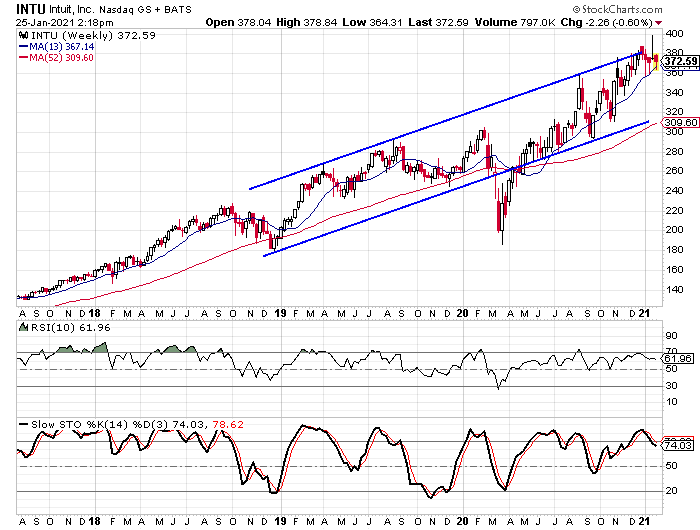 The chart for Salesforce got my attention for the opposite reason. The stock peaked in August and has been falling since then. The weekly stochastic indicators recently reached oversold territory for the first time in a number of years. I also couldn't help but notice that the indicators have just made a bullish crossover.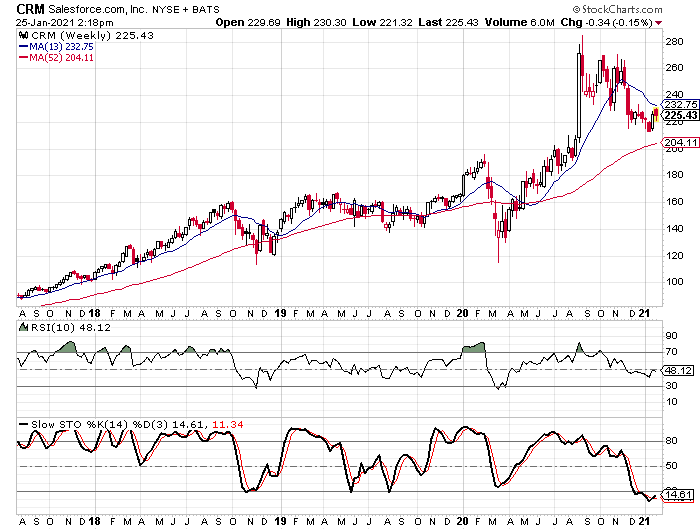 If we look at the fundamental and technical indicators on the Tickeron Screener, both companies do well on the technical side with both getting four bullish signals. Intuit does have one bearish signal and Salesforce has two bearish signals. Both stocks have received bullish signals in the MACD indicators and the Momentum Indicator and all of the signals have come within the last three days.
On the fundamental side, Intuit gets three positive readings and no negative readings. Salesforce gets two positive readings and three negative readings. Despite having more negative readings than positive readings, Salesforce gets positive readings in two categories that I value greatly—the Profit vs. Risk Rating and the SMR Rating. Intuit gets positive readings in both of those categories as well and it gets another positive reading from its Valuation Rating.
The companies are scheduled to report earnings toward the end of February and beginning of March. Salesforce's earnings are expected to grow by 13.6% compared to the same quarter one year ago while revenue is expected to jump 17%. Intuit's EPS is expected to increase by 10.3% and its revenue is expected to grow by 15.2%. The earnings and revenue growth have been big drivers in the rallies for these stocks over the last few years. As it stands now, analysts expect their growth to continue.
Here is the complete comparison between Salesforce and Intuit from Tickeron.