Pattern in Wayfair's Chart is Similar to First Quarter
Online retailer Wayfair (NYSE: W) has been on a bit of a roller coaster ride in the last six months. The stock jumped sharply from the beginning of May through the end of September, gaining over 135% during that span. For comparison purposes, the S&P gained just over 10% during the same timeframe.
From the end of September through November 19, the stock dropped 44% and has since bounced back. Unfortunately, the stock is hitting resistance at it 50-day moving average.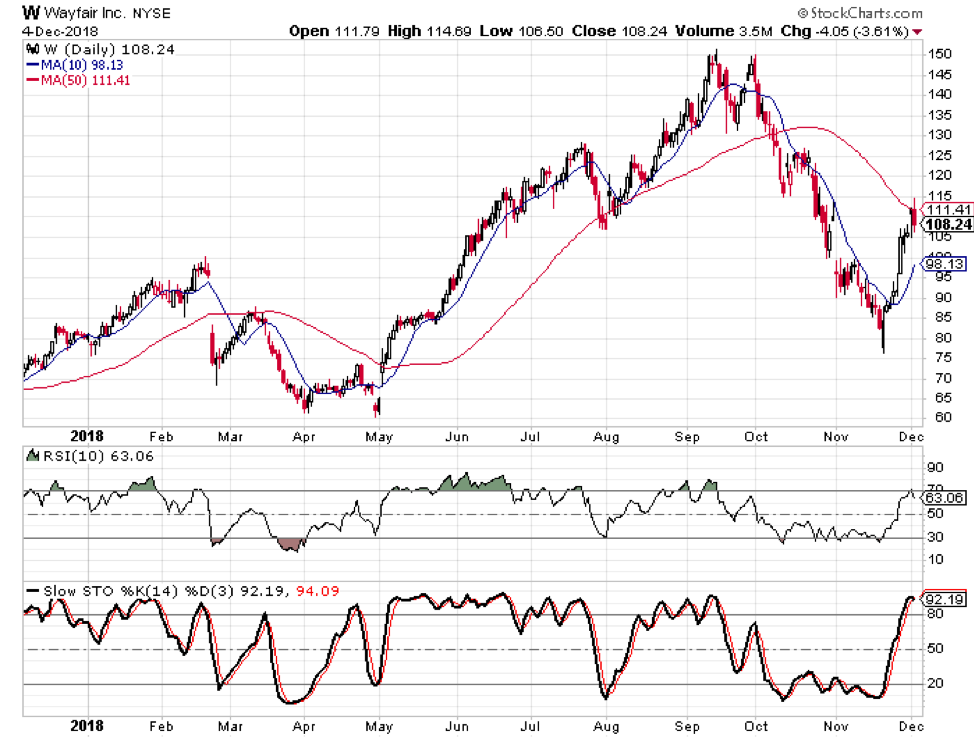 What really caught my eye about this setup was how similar it was to the setup in late February and early March. The stock had gone a nice run from November '17 through mid-February, gaining almost 70% along the way. The stock then dropped sharply and rallied back up to its 50-day moving average. The 50-day acted as resistance in mid-March and the stock fell over 27% in three weeks.
A similar decline this time would take the stock down to the $80 area.

Something that could hurt Wayfair in its attempt to move back above the trendline are its fundamental ratings. The company has a negative profit margin, a negative operating margin, negative return on assets, and a negative return on equity. The company has been able to grow its sales, but that hasn't translated in to earnings growth, in fact earnings have been declining.
It's hard to justify buying a stock with all those negative fundamentals.