Progressive Dips Below Lower Rail of Its Channel, But Bounces Off of 52-Week Moving Average
Progressive Dips Below Lower Rail of Its Channel, But Bounces Off of 52-Week Moving Average
The stock of insurance provider Progressive Corp. (NYSE: PGR) has doubled in price in the last two years. It has been one of the most consistent climbers during that span. The gain is pretty impressive when you consider that the S&P 500 is only up 25% over the same time period.
The stock has slipped in the last few weeks, which caused it to drop below the lower rail of a trend channel that seemed to be guiding the stock higher over the last few years. Despite falling below the lower rail, the stock appears to have found support at its 52-week moving average earlier this week and has since bounced back.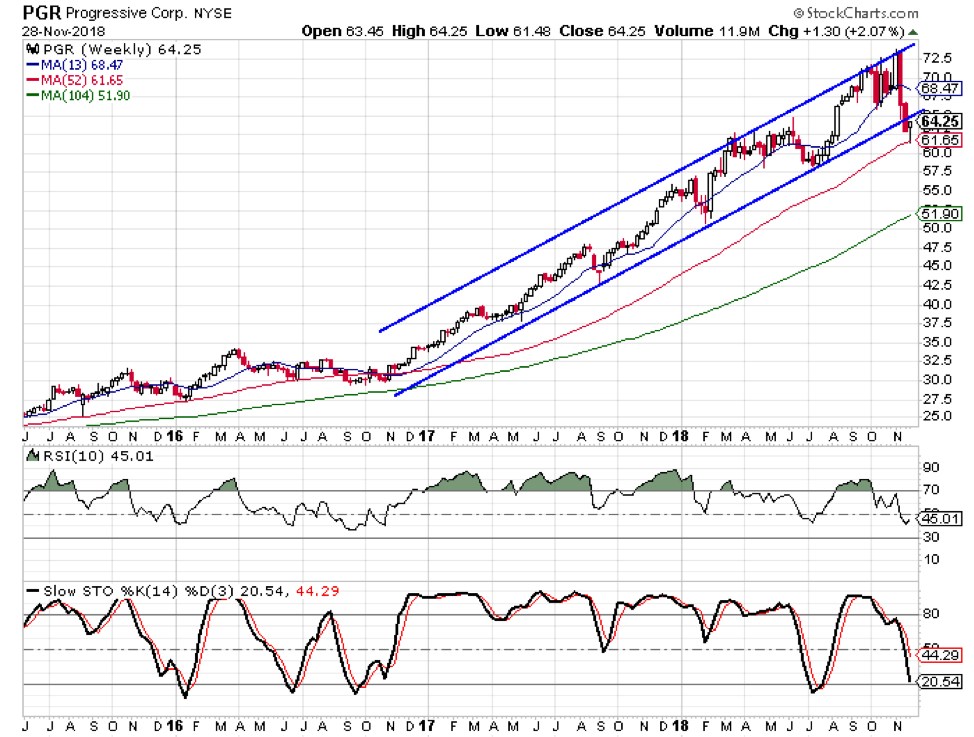 The oscillators have moved sharply lower over the last few weeks and they are now at their lowest levels since July. The 10-week RSI dipped to the 40 level and the weekly stochastic readings have dipped below the 50 level for only the second time in the last two years. When the indicators were this low in July, the stock bounced off the lower rail of the channel and then jumped approximately 20% in a few months.
Progressive has some pretty impressive fundamentals to go along with the technical performance. Earnings jumped by 313% in the most recent quarter compared to the same period a year ago. Analysts expect earnings to grow by 88% for the year as a whole.