Swing Trader: Sector Rotation Strategy (TA&FA) for OBE - 23.16% Growth
Swing Trader: Sector Rotation Strategy (TA&FA) Generates 23.05% Return for TROW
Sector rotation strategies, which combine technical analysis (TA) and fundamental analysis (FA), have been a popular choice among swing traders seeking to capitalize on market trends. One such strategy has yielded impressive results for TROW, with a notable return of 23.05%. In this article, we will delve into the details of this sector rotation strategy and explore potential trading opportunities for TROW.
TROW, a leading financial services company, recently experienced a downward movement in its stock price, pushing it toward the lower band. However, based on the sector rotation strategy employed by swing traders, there is a possibility of a rebound as the stock approaches the middle band. This observation presents an intriguing opportunity for traders to consider buying the stock or exploring call options.
Technical analysis plays a significant role in identifying potential entry and exit points for swing traders. By analyzing price patterns, trends, and support and resistance levels, traders can gain valuable insights into the stock's near-term movements. In this case, the swing trader has identified a potential bounce back towards the middle band, indicating a potential upward trend for TROW.
Furthermore, the fundamental analysis provides a broader perspective on a company's financial health and market position. Traders employing the sector rotation strategy consider not only the technical aspects but also the fundamental factors impacting a particular industry or sector. By analyzing the overall performance and prospects of the financial services sector, traders can align their trades with the sector's potential for growth.
For swing traders eyeing TROW, it is crucial to monitor market trends and assess the strength of the sector rotation strategy. Conducting thorough research on the financial services sector and staying updated with relevant news and events will assist traders in making informed decisions. Additionally, monitoring key technical indicators such as moving averages, relative strength index (RSI), and volume can provide further confirmation for potential trade setups.
While swing trading strategies offer the potential for substantial returns, it is important to remember that all investments come with inherent risks. Traders should exercise caution, and set clear entry and exit points based on their trading plan.
The sector rotation strategy combining technical analysis and fundamental analysis has yielded impressive results for TROW, generating a return of 23.05%. With the stock potentially bouncing back toward the middle band, swing traders may consider buying TROW or exploring call options. However, it is essential to conduct thorough research, stay informed about market trends, and implement risk management strategies to make sound trading decisions.
TROW's Indicator enters downward trend
The Aroon Indicator for TROW entered a downward trend on September 15, 2023. Tickeron's A.I.dvisor identified a pattern where the AroonDown red line was above 70 while the AroonUp green line was below 30 for three straight days. This could indicate a strong downward move is ahead for the stock. Traders may want to consider selling the stock or buying put options. A.I.dvisor looked at 186 similar instances where the Aroon Indicator formed such a pattern. In of the 186 cases the stock moved lower. This puts the odds of a downward move at .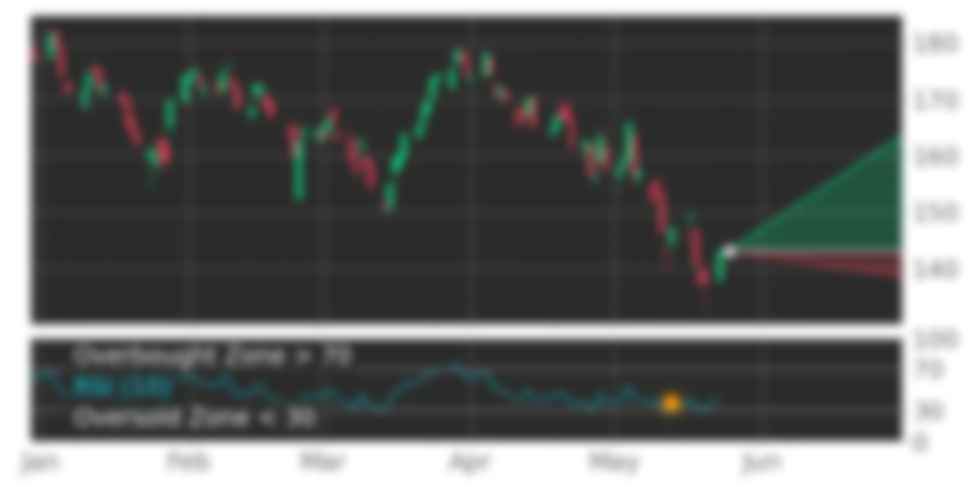 Technical Analysis (Indicators)
Bearish Trend Analysis
The Momentum Indicator moved below the 0 level on September 20, 2023. You may want to consider selling the stock, shorting the stock, or exploring put options on TROW as a result. In of 87 cases where the Momentum Indicator fell below 0, the stock fell further within the subsequent month. The odds of a continued downward trend are .
The Moving Average Convergence Divergence Histogram (MACD) for TROW turned negative on September 21, 2023. This could be a sign that the stock is set to turn lower in the coming weeks. Traders may want to sell the stock or buy put options. Tickeron's A.I.dvisor looked at 50 similar instances when the indicator turned negative. In of the 50 cases the stock turned lower in the days that followed. This puts the odds of success at .
Following a 3-day decline, the stock is projected to fall further. Considering past instances where TROW declined for three days, the price rose further in of 62 cases within the following month. The odds of a continued downward trend are .
Bullish Trend Analysis
The RSI Indicator entered the oversold zone -- be on the watch for TROW's price rising or consolidating in the future. That's also the time to consider buying the stock or exploring call options.
The Stochastic Oscillator demonstrated that the ticker has stayed in the oversold zone for 2 days, which means it's wise to expect a price bounce in the near future.
Following a 3-day Advance, the price is estimated to grow further. Considering data from situations where TROW advanced for three days, in of 341 cases, the price rose further within the following month. The odds of a continued upward trend are .
TROW may jump back above the lower band and head toward the middle band. Traders may consider buying the stock or exploring call options.
Fundamental Analysis (Ratings)
The Tickeron PE Growth Rating for this company is (best 1 - 100 worst), pointing to outstanding earnings growth. The PE Growth rating is based on a comparative analysis of stock PE ratio increase over the last 12 months compared against S&P 500 index constituents.
The Tickeron SMR rating for this company is (best 1 - 100 worst), indicating strong sales and a profitable business model. SMR (Sales, Margin, Return on Equity) rating is based on comparative analysis of weighted Sales, Income Margin and Return on Equity values compared against S&P 500 index constituents. The weighted SMR value is a proprietary formula developed by Tickeron and represents an overall profitability measure for a stock.
The Tickeron Price Growth Rating for this company is (best 1 - 100 worst), indicating steady price growth. TROW's price grows at a higher rate over the last 12 months as compared to S&P 500 index constituents.
The Tickeron Profit vs. Risk Rating rating for this company is (best 1 - 100 worst), indicating that the returns do not compensate for the risks. TROW's unstable profits reported over time resulted in significant Drawdowns within these last five years. A stable profit reduces stock drawdown and volatility. The average Profit vs. Risk Rating rating for the industry is 81, placing this stock worse than average.
The Tickeron Valuation Rating of (best 1 - 100 worst) indicates that the company is significantly overvalued in the industry. This rating compares market capitalization estimated by our proprietary formula with the current market capitalization. This rating is based on the following metrics, as compared to industry averages: P/B Ratio (2.565) is normal, around the industry mean (3.492). P/E Ratio (15.798) is within average values for comparable stocks, (30.662). TROW's Projected Growth (PEG Ratio) (20.425) is slightly higher than the industry average of (4.611). Dividend Yield (0.046) settles around the average of (0.071) among similar stocks. P/S Ratio (3.812) is also within normal values, averaging (78.164).
Notable companies
The most notable companies in this group are Bank of New York Mellon Corp (NYSE:BK), Ares Capital Corp (NASDAQ:ARCC), WisdomTree (NYSE:WT), AMTD IDEA Group (NYSE:AMTD).
Industry description
Investment Managers manage financial assets and other investments of clients. Management includes designing a short- or long-term strategy for buying/holding and selling of portfolio holdings. It can also include tax services and other aspects of financial planning as well. While it is perceived that the industry is faced with growing competition from robo-advisors/digital platforms and passive/ index-tracking funds, many investors still find value in actively managed in-person services that investment management companies often emphasize on. At the same time, many wealth managers are also incorporating digital initiatives/low cost options in addition to their in-person customized services. Their main sources of revenues are fees as a percentage of assets under management, in addition to a certain portion of clients' gains from asset appreciation. BlackRock, Inc., Blackstone Group Inc and Brookfield Asset Management are some of the major investment management companies.
Market Cap
The average market capitalization across the Investment Managers Industry is 5.18B. The market cap for tickers in the group ranges from 57 to 108.81B. FDLPF holds the highest valuation in this group at 108.81B. The lowest valued company is RSERF at 57.
High and low price notable news
The average weekly price growth across all stocks in the Investment Managers Industry was -2%. For the same Industry, the average monthly price growth was 7%, and the average quarterly price growth was 11%. JPPYY experienced the highest price growth at 32%, while PIAC experienced the biggest fall at -63%.
Volume
The average weekly volume growth across all stocks in the Investment Managers Industry was 12%. For the same stocks of the Industry, the average monthly volume growth was 55% and the average quarterly volume growth was 18%
Fundamental Analysis Ratings
The average fundamental analysis ratings, where 1 is best and 100 is worst, are as follows
Valuation Rating: 36
P/E Growth Rating: 51
Price Growth Rating: 57
SMR Rating: 69
Profit Risk Rating: 80
Seasonality Score: -24 (-100 ... +100)