The Most Valuable A.I. Company in the World
SenseTime, the Chinese titan of facial recognition technology, recently closed a series-C funding round that made them the most valuable AI company in the world. Sources told Reuters the company was now worth as much as $4.5 billion.
The round was notable not just for the $600 million raised (which the company claimed was a world record for an AI firm), but for the big names who gave financial backing. E-commerce behemoth, Alibaba, reportedly contributed $227 million, while another Chinese e-commerce company, Suning.com, and Singapore's state-owned investment company, Temasek Holdings, also made significant contributions.
SenseTime primarily develops surveillance software based in AI. They became profitable in 2017, just three years after their founding, and have quickly found practical applications for their technology with the Chinese government. The company's image analysis component was capable even in 2016 of identifying faces and cars from a football field away, then accurately matching them to a national database. SenseTime now processes data from China's 170 million CCTV cameras, as well as smart glasses worn by on-duty police officers.
But government entities are far from the only parties seeking to capitalize on AI technology. As indicated by the most recent funding round, companies are firm believers in AI's potential for a variety of applications. The investment was a logical one to Alibaba executive vice chairman Joe Tsia. "We are especially impressed by their R&D capabilities in deep learning and visual computing," he said. "Our business at Alibaba is already seeing tangible benefits from our investments in AI, and we are committed to further investment." Global chipmaking giant Qualcomm also joined SenseTime's series-C round, albeit more quietly, as part of a series of investments in nine China-based companies. Like Alibaba, they championed SenseTime's capacity for innovation, as well as their ability to "help grow [an] entire industry."

SenseTime's success bodes well for China's stated goal of becoming a worldwide AI leader by 2030 – which would mean spearheading a potentially $150 billion-a-year industry. SenseTime will use the series-C round to expand their overseas footprint and develop new, effective industrial applications for AI to expand their existing 400-plus customer base in fintech, automotive, mobile phones, city development, and more. Finding additional, consumer-focused uses for their technology seems inevitable as SenseTime continues their path towards global AI dominance.
 
Tickeron Develops AI to Help Investors Make Data-Driven Decisions
Tickeron has developed Artificial Intelligence capable of scanning the stock, bond, ETF, and cryptocurrency markets in search of trends and patterns. Once Tickeron's AI discovers a pattern or a trend, it automatically sends trade ideas to investors. To learn more about how you can be using algorithms and AI to trade faster and smarter, go to tickeron.com and start a free trial today.

BABA in +5.50% Uptrend, growing for three consecutive days on June 01, 2023
Moving higher for three straight days is viewed as a bullish sign. Keep an eye on this stock for future growth. Considering data from situations where BABA advanced for three days, in of 276 cases, the price rose further within the following month. The odds of a continued upward trend are .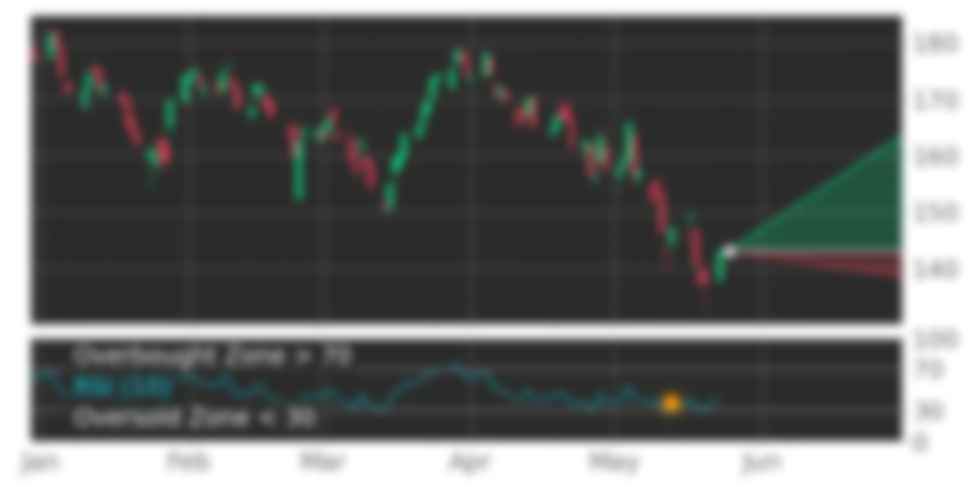 Technical Analysis (Indicators)
Bullish Trend Analysis
The RSI Oscillator points to a transition from a downward trend to an upward trend -- in cases where BABA's RSI Indicator exited the oversold zone, of 40 resulted in an increase in price. Tickeron's analysis proposes that the odds of a continued upward trend are .
The Stochastic Oscillator shows that the ticker has stayed in the oversold zone for 5 days. The price of this ticker is presumed to bounce back soon, since the longer the ticker stays in the oversold zone, the more promptly an upward trend is expected.
Bearish Trend Analysis
The Momentum Indicator moved below the 0 level on May 24, 2023. You may want to consider selling the stock, shorting the stock, or exploring put options on BABA as a result. In of 88 cases where the Momentum Indicator fell below 0, the stock fell further within the subsequent month. The odds of a continued downward trend are .
The Moving Average Convergence Divergence Histogram (MACD) for BABA turned negative on May 24, 2023. This could be a sign that the stock is set to turn lower in the coming weeks. Traders may want to sell the stock or buy put options. Tickeron's A.I.dvisor looked at 53 similar instances when the indicator turned negative. In of the 53 cases the stock turned lower in the days that followed. This puts the odds of success at .
BABA moved below its 50-day moving average on May 18, 2023 date and that indicates a change from an upward trend to a downward trend.
The 50-day moving average for BABA moved below the 200-day moving average on May 02, 2023. This could be a long-term bearish signal for the stock as the stock shifts to an downward trend.
Following a 3-day decline, the stock is projected to fall further. Considering past instances where BABA declined for three days, the price rose further in of 62 cases within the following month. The odds of a continued downward trend are .
BABA broke above its upper Bollinger Band on May 17, 2023. This could be a sign that the stock is set to drop as the stock moves back below the upper band and toward the middle band. You may want to consider selling the stock or exploring put options.
The Aroon Indicator for BABA entered a downward trend on May 18, 2023. This could indicate a strong downward move is ahead for the stock. Traders may want to consider selling the stock or buying put options.
Fundamental Analysis (Ratings)
The Tickeron Seasonality Score of (best 1 - 100 worst) indicates that the company is fair valued in the industry. The Tickeron Seasonality score describes the variance of predictable price changes around the same period every calendar year. These changes can be tied to a specific month, quarter, holiday or vacation period, as well as a meteorological or growing season.
The Tickeron Price Growth Rating for this company is (best 1 - 100 worst), indicating steady price growth. BABA's price grows at a higher rate over the last 12 months as compared to S&P 500 index constituents.
The Tickeron PE Growth Rating for this company is (best 1 - 100 worst), pointing to slightly better than average earnings growth. The PE Growth rating is based on a comparative analysis of stock PE ratio increase over the last 12 months compared against S&P 500 index constituents.
The Tickeron Valuation Rating of (best 1 - 100 worst) indicates that the company is slightly overvalued in the industry. This rating compares market capitalization estimated by our proprietary formula with the current market capitalization. This rating is based on the following metrics, as compared to industry averages: P/B Ratio (1.522) is normal, around the industry mean (18.853). P/E Ratio (21.413) is within average values for comparable stocks, (73.410). Projected Growth (PEG Ratio) (0.762) is also within normal values, averaging (2.599). Dividend Yield (0.000) settles around the average of (0.039) among similar stocks. P/S Ratio (1.786) is also within normal values, averaging (8.443).
The Tickeron SMR rating for this company is (best 1 - 100 worst), indicating weak sales and an unprofitable business model. SMR (Sales, Margin, Return on Equity) rating is based on comparative analysis of weighted Sales, Income Margin and Return on Equity values compared against S&P 500 index constituents. The weighted SMR value is a proprietary formula developed by Tickeron and represents an overall profitability measure for a stock.
The Tickeron Profit vs. Risk Rating rating for this company is (best 1 - 100 worst), indicating that the returns do not compensate for the risks. BABA's unstable profits reported over time resulted in significant Drawdowns within these last five years. A stable profit reduces stock drawdown and volatility. The average Profit vs. Risk Rating rating for the industry is 95, placing this stock worse than average.
Notable companies
The most notable companies in this group are Amazon.com (NASDAQ:AMZN), Alibaba Group Holding Limited (NYSE:BABA), PDD Holdings (NASDAQ:PDD), JD.com (NASDAQ:JD), eBay (NASDAQ:EBAY), Chewy (NYSE:CHWY), Vipshop Holdings Limited (NYSE:VIPS), Wayfair (NYSE:W), Just Eat Takeaway.com NV (OTC:JTKWY), Revolve Group (NYSE:RVLV).
Industry description
The internet retail industry includes companies that sell products and services through the Internet. With more and more consumers using online retailers, the companies have seen a big increase in the use of their services. Some of the companies in the group are focused on selling business-to-business products and services. Others sell business-to-consumer products and services. Internet retailers offer a wide variety of products like books, apparel, and electronics. Some companies even specialize in only one or two categories. One potentially critical factor for players to thrive in this space is the quality and speed of product delivery. This requires an investment in efficient distribution networks. Things like logistics are important factors in the success in the extremely competitive industry. For a company to stay relevant in the industry it must have effective pricing strategies and upgraded websites. The websites must be easy to navigate and engaging for customers. In addition to the revenues generated from straight sales, internet retailers can generate revenue from subscription fees and advertising. Amazon.com, Inc., Alibaba Group, and JD.com are some of the global leaders.
Market Cap
The average market capitalization across the Internet Retail Industry is 24.35B. The market cap for tickers in the group ranges from 30 to 1.26T. AMZN holds the highest valuation in this group at 1.26T. The lowest valued company is YUKA at 30.
High and low price notable news
The average weekly price growth across all stocks in the Internet Retail Industry was 1%. For the same Industry, the average monthly price growth was -2%, and the average quarterly price growth was -14%. IPW experienced the highest price growth at 29%, while ASOMY experienced the biggest fall at -19%.
Volume
The average weekly volume growth across all stocks in the Internet Retail Industry was 13%. For the same stocks of the Industry, the average monthly volume growth was -10% and the average quarterly volume growth was -11%
Fundamental Analysis Ratings
The average fundamental analysis ratings, where 1 is best and 100 is worst, are as follows
Valuation Rating: 63
P/E Growth Rating: 70
Price Growth Rating: 55
SMR Rating: 78
Profit Risk Rating: 94
Seasonality Score: 26 (-100 ... +100)