Unleashing Profit Potential: Riding the Rising Wave of AI Robots - ETSY Soars 5% in 5 Days!
In the midst of a volatile market, our robots have been on an impressive winning streak, enabling substantial earnings. Today, we are thrilled to highlight our star performer – the Swing Trader High-Volatility Stocks AI robot, available at Swing-Trader-High-Volatility-Stocks-for-Active-Trading-TA-FA. Pairing this exceptional robot with the stock of ETSY INC promises an exciting opportunity for traders.
Why Choose Our Swing Trader High-Volatility Stocks AI Robot?
Cutting-Edge Technology: Powered by a pool of advanced technical indicators and neural networks, our AI robot has the capability to identify optimal entry and exit points with exceptional accuracy.

Smart Stock Selection: Developed by our team of expert quants, our proprietary method assesses momentum strength and quality in the most active US stocks, ensuring the robot targets the best opportunities for maximum profit potential.

Balanced Trading Strategy: With the ability to balance short and long positions, our Swing Trader robot helps traders navigate market fluctuations with ease, minimizing the risk of prolonged drawdowns and maximizing gains.

Built-in Profit Protection: Once a trade is executed, our AI robot takes charge of the exit strategy. It secures profits with a fixed "Take Profit" order set at 3.5% of the position's opening price. Additionally, a fixed stop loss at 3% of the opening price and a flexible trailing stop act as safeguards against potential market reversals.

Ideal for Active Traders: If you're an active trader with the ability to monitor multiple trades simultaneously, our Swing Trader robot is tailor-made for you. With an average trade duration of one day, you can efficiently utilize your capital and maintain a dynamic portfolio.

Transparency and Margin-Free Trading: We value transparency and honesty. Our robot's trading results are presented without using any margin, offering a clear and comprehensive view of its performance. Detailed performance statistics and the equity chart are accessible on the robot page, ensuring full transparency.
Don't Miss Out on Real-Time Paper Trades:
The "Open Trades" tab allows you to witness the Swing Trader robot's stock selection, entry, and exit strategies as they unfold in real-time paper trades, giving you an insight into its decision-making process.
Past Successes and Future Potential:
In the "Closed Trades" tab, you can review all previous trades executed by the AI Robot, gaining valuable insights from its past successes and inspiring confidence in the future opportunities it can unlock.
Ready to Take Control of Your Trading Journey?
Join the Swing Trader High-Volatility Stocks AI robot and seize the potential of the dynamic market. Empower yourself with the prowess of AI technology while maximizing your trading opportunities. Embrace this transformative journey and start your path to success today!
ETSY in -1.38% downward trend, declining for three consecutive days on September 22, 2023
Moving lower for three straight days is viewed as a bearish sign. Keep an eye on this stock for future declines. Considering data from situations where ETSY declined for three days, in of 306 cases, the price declined further within the following month. The odds of a continued downward trend are .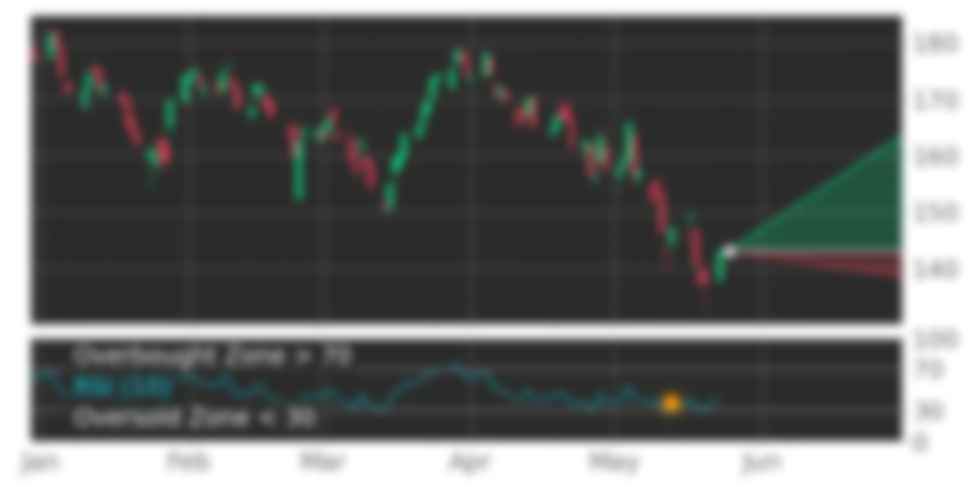 Technical Analysis (Indicators)
Bearish Trend Analysis
The Momentum Indicator moved below the 0 level on September 05, 2023. You may want to consider selling the stock, shorting the stock, or exploring put options on ETSY as a result. In of 86 cases where the Momentum Indicator fell below 0, the stock fell further within the subsequent month. The odds of a continued downward trend are .
The Aroon Indicator for ETSY entered a downward trend on September 22, 2023. This could indicate a strong downward move is ahead for the stock. Traders may want to consider selling the stock or buying put options.
Bullish Trend Analysis
The RSI Indicator points to a transition from a downward trend to an upward trend -- in cases where ETSY's RSI Oscillator exited the oversold zone, of 26 resulted in an increase in price. Tickeron's analysis proposes that the odds of a continued upward trend are .
The Stochastic Oscillator shows that the ticker has stayed in the oversold zone for 12 days. The price of this ticker is presumed to bounce back soon, since the longer the ticker stays in the oversold zone, the more promptly an upward trend is expected.
The Moving Average Convergence Divergence (MACD) for ETSY just turned positive on September 19, 2023. Looking at past instances where ETSY's MACD turned positive, the stock continued to rise in of 48 cases over the following month. The odds of a continued upward trend are .
ETSY may jump back above the lower band and head toward the middle band. Traders may consider buying the stock or exploring call options.
Fundamental Analysis (Ratings)
The Tickeron Price Growth Rating for this company is (best 1 - 100 worst), indicating steady price growth. ETSY's price grows at a higher rate over the last 12 months as compared to S&P 500 index constituents.
The Tickeron Profit vs. Risk Rating rating for this company is (best 1 - 100 worst), indicating that the returns do not compensate for the risks. ETSY's unstable profits reported over time resulted in significant Drawdowns within these last five years. A stable profit reduces stock drawdown and volatility. The average Profit vs. Risk Rating rating for the industry is 92, placing this stock better than average.
The Tickeron Valuation Rating of (best 1 - 100 worst) indicates that the company is significantly overvalued in the industry. This rating compares market capitalization estimated by our proprietary formula with the current market capitalization. This rating is based on the following metrics, as compared to industry averages: P/B Ratio (21.413) is normal, around the industry mean (17.208). P/E Ratio (34.722) is within average values for comparable stocks, (72.902). Projected Growth (PEG Ratio) (1.301) is also within normal values, averaging (2.306). Dividend Yield (0.000) settles around the average of (0.039) among similar stocks. P/S Ratio (2.990) is also within normal values, averaging (9.397).
The Tickeron PE Growth Rating for this company is (best 1 - 100 worst), pointing to worse than average earnings growth. The PE Growth rating is based on a comparative analysis of stock PE ratio increase over the last 12 months compared against S&P 500 index constituents.
The Tickeron SMR rating for this company is (best 1 - 100 worst), indicating weak sales and an unprofitable business model. SMR (Sales, Margin, Return on Equity) rating is based on comparative analysis of weighted Sales, Income Margin and Return on Equity values compared against S&P 500 index constituents. The weighted SMR value is a proprietary formula developed by Tickeron and represents an overall profitability measure for a stock.
Notable companies
The most notable companies in this group are Amazon.com (NASDAQ:AMZN), Alibaba Group Holding Limited (NYSE:BABA), PDD Holdings (NASDAQ:PDD), JD.com (NASDAQ:JD), eBay (NASDAQ:EBAY), Vipshop Holdings Limited (NYSE:VIPS), Chewy (NYSE:CHWY), Wayfair (NYSE:W), Just Eat Takeaway.com NV (OTC:JTKWY), Revolve Group (NYSE:RVLV).
Industry description
The internet retail industry includes companies that sell products and services through the Internet. With more and more consumers using online retailers, the companies have seen a big increase in the use of their services. Some of the companies in the group are focused on selling business-to-business products and services. Others sell business-to-consumer products and services. Internet retailers offer a wide variety of products like books, apparel, and electronics. Some companies even specialize in only one or two categories. One potentially critical factor for players to thrive in this space is the quality and speed of product delivery. This requires an investment in efficient distribution networks. Things like logistics are important factors in the success in the extremely competitive industry. For a company to stay relevant in the industry it must have effective pricing strategies and upgraded websites. The websites must be easy to navigate and engaging for customers. In addition to the revenues generated from straight sales, internet retailers can generate revenue from subscription fees and advertising. Amazon.com, Inc., Alibaba Group, and JD.com are some of the global leaders.
Market Cap
The average market capitalization across the Internet Retail Industry is 27.55B. The market cap for tickers in the group ranges from 30 to 1.35T. AMZN holds the highest valuation in this group at 1.35T. The lowest valued company is YUKA at 30.
High and low price notable news
The average weekly price growth across all stocks in the Internet Retail Industry was -1%. For the same Industry, the average monthly price growth was -5%, and the average quarterly price growth was 30%. YJ experienced the highest price growth at 58%, while RDBBY experienced the biggest fall at -21%.
Volume
The average weekly volume growth across all stocks in the Internet Retail Industry was 16%. For the same stocks of the Industry, the average monthly volume growth was 14% and the average quarterly volume growth was -13%
Fundamental Analysis Ratings
The average fundamental analysis ratings, where 1 is best and 100 is worst, are as follows
Valuation Rating: 63
P/E Growth Rating: 70
Price Growth Rating: 66
SMR Rating: 78
Profit Risk Rating: 92
Seasonality Score: -23 (-100 ... +100)