Walmart (WMT, $101.31) seriously considering stock market debut of ASDA
After failed merger attempts with Sainsbury's, Walmart is now contemplating a stock market floatation for the British supermarket retailer Asda that likely to value the business at more than £7 billion. The company may soon go public to strengthen long-term successes.
However, preparations of floatation may take years before coming to fruition, so in the meantime the company must ensure that the UK chain receives adequate resources to realize its full potential.
Meanwhile, the U.S retailer has instructed Asda to focus on improving its operations, including the implementation of £80 million of price cuts to take on rivals such as Aldi and Lidl. However, Asda itself is faced by greater challenges such as the threat of Amazon.
Analysts believe that contemplations of IPO could mean that the U.S. retailer is struggling to find a plan B for its UK business, especially after its merger attempt with Sainsbury failed.
But analysts also believe that these supermarkets need to sharpen their prices in the face of rapidly expanding low cost players like Aldi and Lidl. But Walmart needs to keep in mind the lives of people while they want to bring billions into the market. Asda's employees have sought reassurances from their company regarding safety of their jobs.
The £7.3 billion merger deal between Walmart and Sainsbury was blocked by the UK's competition watchdog, which ruled last month that a merger could mean less choice and higher prices for shoppers. The Leeds-based supermarket chain Asda was purchased by Walmart way back in July 1999 for £6.7 billion.
WMT sees MACD Histogram just turned negative
WMT saw its Moving Average Convergence Divergence Histogram (MACD) turn negative on April 26, 2023. This is a bearish signal that suggests the stock could decline going forward. Tickeron's A.I.dvisor looked at 47 instances where the indicator turned negative. In of the 47 cases the stock moved lower in the days that followed. This puts the odds of a downward move at .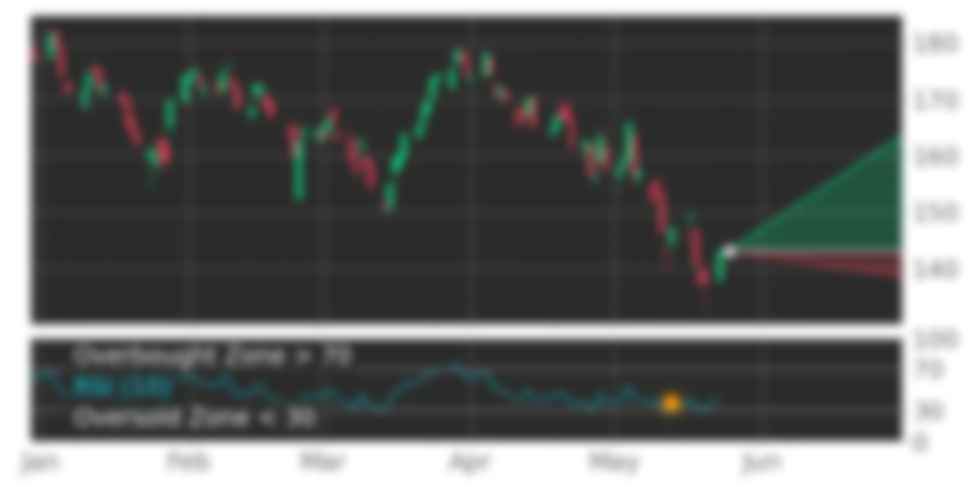 Technical Analysis (Indicators)
Bearish Trend Analysis
The Momentum Indicator moved below the 0 level on May 19, 2023. You may want to consider selling the stock, shorting the stock, or exploring put options on WMT as a result. In of 90 cases where the Momentum Indicator fell below 0, the stock fell further within the subsequent month. The odds of a continued downward trend are .
WMT moved below its 50-day moving average on May 24, 2023 date and that indicates a change from an upward trend to a downward trend.
Following a 3-day decline, the stock is projected to fall further. Considering past instances where WMT declined for three days, the price rose further in of 62 cases within the following month. The odds of a continued downward trend are .
WMT broke above its upper Bollinger Band on May 08, 2023. This could be a sign that the stock is set to drop as the stock moves back below the upper band and toward the middle band. You may want to consider selling the stock or exploring put options.
Bullish Trend Analysis
The RSI Oscillator points to a transition from a downward trend to an upward trend -- in cases where WMT's RSI Oscillator exited the oversold zone, of 24 resulted in an increase in price. Tickeron's analysis proposes that the odds of a continued upward trend are .
The Stochastic Oscillator shows that the ticker has stayed in the oversold zone for 7 days. The price of this ticker is presumed to bounce back soon, since the longer the ticker stays in the oversold zone, the more promptly an upward trend is expected.
Following a 3-day Advance, the price is estimated to grow further. Considering data from situations where WMT advanced for three days, in of 319 cases, the price rose further within the following month. The odds of a continued upward trend are .
The Aroon Indicator entered an Uptrend today. In of 296 cases where WMT Aroon's Indicator entered an Uptrend, the price rose further within the following month. The odds of a continued Uptrend are .
Fundamental Analysis (Ratings)
The Tickeron Profit vs. Risk Rating rating for this company is (best 1 - 100 worst), indicating low risk on high returns. The average Profit vs. Risk Rating rating for the industry is 59, placing this stock better than average.
The Tickeron PE Growth Rating for this company is (best 1 - 100 worst), pointing to outstanding earnings growth. The PE Growth rating is based on a comparative analysis of stock PE ratio increase over the last 12 months compared against S&P 500 index constituents.
The Tickeron Valuation Rating of (best 1 - 100 worst) indicates that the company is fair valued in the industry. This rating compares market capitalization estimated by our proprietary formula with the current market capitalization. This rating is based on the following metrics, as compared to industry averages: P/B Ratio (5.456) is normal, around the industry mean (56.851). WMT has a moderately high P/E Ratio (35.336) as compared to the industry average of (22.783). WMT's Projected Growth (PEG Ratio) (3.435) is slightly higher than the industry average of (1.952). Dividend Yield (0.015) settles around the average of (0.034) among similar stocks. P/S Ratio (0.640) is also within normal values, averaging (1.153).
The Tickeron Price Growth Rating for this company is (best 1 - 100 worst), indicating steady price growth. WMT's price grows at a higher rate over the last 12 months as compared to S&P 500 index constituents.
The Tickeron SMR rating for this company is (best 1 - 100 worst), indicating slightly weaker than average sales and a marginally profitable business model. SMR (Sales, Margin, Return on Equity) rating is based on comparative analysis of weighted Sales, Income Margin and Return on Equity values compared against S&P 500 index constituents. The weighted SMR value is a proprietary formula developed by Tickeron and represents an overall profitability measure for a stock.
Notable companies
The most notable companies in this group are Walmart (NYSE:WMT), Costco Wholesale Corp (NASDAQ:COST), Target Corp (NYSE:TGT), Dollar General Corp (NYSE:DG), Dollar Tree (NASDAQ:DLTR), Big Lots (NYSE:BIG).
Industry description
Companies in the discount stores industry specialize in offering substantial discounts on a vast array of retail products. Some companies in this industry also operate general merchandise warehouse clubs. Products sold at discount stores are typically similar to those of any department store, but the pricing of the goods is generally much lower (and hence the name "discount"). Think Dollar General Corporation, Dollar Tree, Inc. and Five Below, Inc. Many discount stores target low-income households and/or price-sensitive consumers as their potential market. Discount stores' profitability could hinge on factors like competitive pricing, sufficient locations, healthy revenue per square foot, and effective advertisement. These store operators could have an edge over other retailers during financial crises or recessions, when many consumers could be looking for less expensive alternatives.
Market Cap
The average market capitalization across the Discount Stores Industry is 56.03B. The market cap for tickers in the group ranges from 59.45K to 394.95B. WMT holds the highest valuation in this group at 394.95B. The lowest valued company is TUEMQ at 59.45K.
High and low price notable news
The average weekly price growth across all stocks in the Discount Stores Industry was -6%. For the same Industry, the average monthly price growth was -4%, and the average quarterly price growth was -5%. COST experienced the highest price growth at 2%, while BIG experienced the biggest fall at -21%.
Volume
The average weekly volume growth across all stocks in the Discount Stores Industry was 62%. For the same stocks of the Industry, the average monthly volume growth was 165% and the average quarterly volume growth was 300%
Fundamental Analysis Ratings
The average fundamental analysis ratings, where 1 is best and 100 is worst, are as follows
Valuation Rating: 45
P/E Growth Rating: 47
Price Growth Rating: 57
SMR Rating: 41
Profit Risk Rating: 58
Seasonality Score: -7 (-100 ... +100)