A bullish signal on Toll Brothers ahead of earnings
Luxury homebuilder Toll Brothers (NYSE: TOL) is set to report earnings on May 22 and the stock just got a bullish signal from the Tickeron AI Trend Prediction Engine on May 17. The signal calls for a gain of at least 4% over the next month and it showed a confidence level of 69%. Past predictions on Toll Brothers have been successful 72% of the time.
The company has really strong fundamentals heading into the earnings report. The company has seen earnings grow at an average annual rate of 36% over the last three years. Earnings increased by 19% in the most recent quarterly report. Revenue has increased by an average rate of 19% annually over the last three years and it increased by 16% in the most recent quarter.

The company shows a return on equity of 15.4% and a profit margin of 13.1%
The weekly chart shows another possible long-term bullish signal and that is the fact that the 13-week moving average just crossed bullishly above the 52-week moving average. The last time we saw a bullish cross of these moving averages was in November 2016, right before the stock rallied sharply for the next year.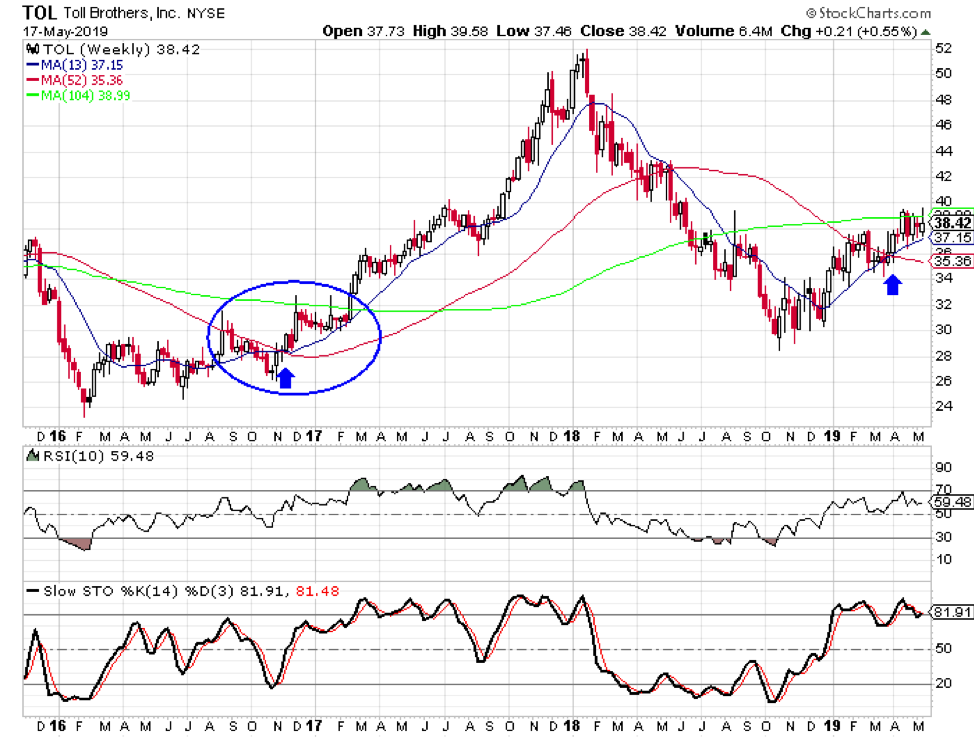 One final observation about Toll Brothers that could help move the stock higher and that is the sentiment toward the stock. Only five out of 19 analysts rank the stock as a buy. This means there is a far greater chance of upgrades in the future than downgrades. This could help push the stock higher in the coming months.