American Airlines Rallying on Falling Oil Prices, but Remains in Downward-Slope
Oil prices have fallen each of the last 12 days and that is a record for consecutive down sessions. With the big drop in oil prices, airline stocks have performed really well. One such stock is American Airlines (Nasdaq: AAL) and it has jumped almost 25% in the last three weeks. Keep in mind that the S&P 500 is up a whopping 2.5% in the last three weeks.
Despite the sharp rally by American, the stock is facing some resistance just ahead in the form of the upper rail of a downward-sloped trend channel. The upper rail is the result of connecting the highs from March and September while the stock has hit what looks to be the lower rail on several occasions.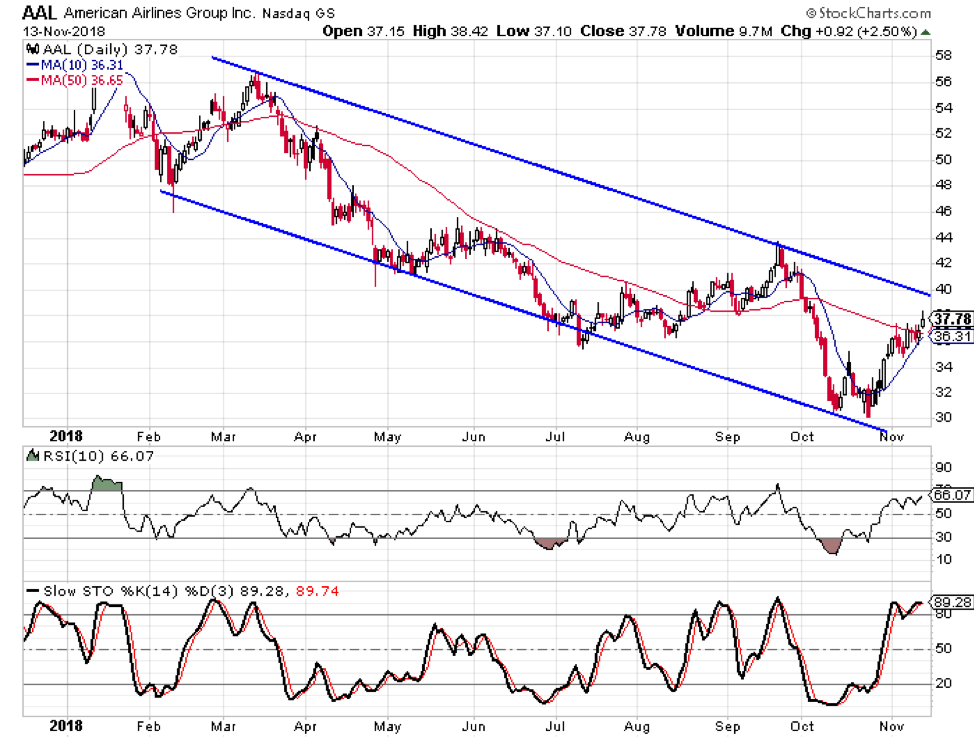 The daily stochastic readings are already in overbought territory and the 10-day RSI is close. When these indicators have both been in overbought territory is when the stock has experienced the most problems over the last eight months.
American's fundamentals are interesting because the earnings have been declining, but the profitability measurements are pretty good. Over the last three years, earnings have declined by an average of 21% per year. They declined by 25% in the most recent quarterly report and analysts expect an EPS decline of 15% for the year.

Despite the declining sales, the return on equity is at 67.5% and the profit margin is at 9.9%. This mix of measurements is rather odd and could explain the longer-term downtrend. Of course, if oil prices continue to fall, the fundamentals could change dramatically in the coming quarters.