Bullish Signal on Hong Kong Fintech Firm has High Probability of Success
Bullish Signal on Hong Kong Fintech Firm has High Probability of Success
With current market conditions and with lockdowns around the globe, more and more people are working from home. It also appears more and more people are trading from home. The number of short-term traders and the hype around certain stocks is starting to remind me of 1999 and 2000. I hope the outcome is different this time around, but the demand for financial technology that helps people trade online is growing.
One firm in Hong Kong has seen tremendous earnings and revenue growth as a result of the trend. Futu Holdings (FUTU) and its subsidiaries provide investing services for Hong Kong, US and China Connect stocks, to individual investors through its proprietary one-stop digital platform, Futubull.
The company has seen earnings grow by 111% per year over the last three years while revenue has grown by 96% per year. Earnings jumped 1,800% in the third quarter as revenue jumped 276%. The stock itself is up over 300% so far in 2020, and that's after a 20% pullback in the last month. The recent pullback brought the stock down to a support level in the $40.50 area—the high from earlier this year.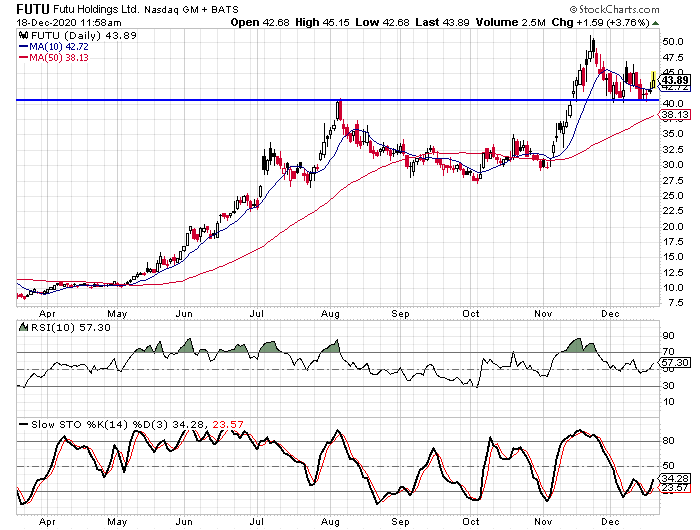 The stock fell to the support in early December and then bounced a little before dropping back down to retest the support. Now it looks as if the stock is turning higher again and Tickeron's Trend Prediction Engine received a bullish signal on the stock on December 17. The signal shows that the odds of success are 90% for a bullish move over the next month.
The strong revenue growth has given Futu a high SMR Rating on Tickeron's fundamental ratings and the huge jump in earnings has created a great P/E Growth Rating. The SMR Rating is a 16 and P/E Growth Rating is a 7. That means the company is in the top 16th percentile and the 7th percentile in these two categories.
On the technical side, the daily stochastic indicators were in oversold territory for a few days before making a bullish crossover and moving out of oversold territory on December 17. The stock also got a bullish signal from the Momentum Indicator on December 18.
The full outlook from Tickeron shows there are some concerns on both the fundamental and technical sides.