MGM hits downward sloped trend line and gets a bearish signal at the same time
MGM hits downward sloped trend line and gets a bearish signal at the same time
Casino operator MGM Resorts (NYSE: MGM) has been on a different path from the overall market over the last four and a half months. Like most stocks, MGM rallied from its December low, but it bounced even more sharply than most. From its Christmas Eve low to the February 1 high, the stock gained over 36% while the S&P gained just over 15%. Unfortunately for MGM shareholders, the stock wasn't able to maintain that momentum and has been trending lower since the February high.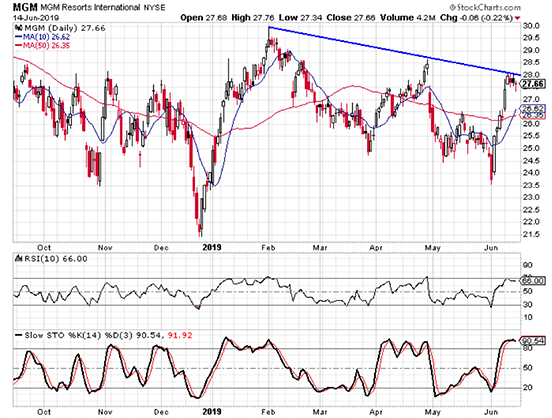 Looking at the daily chart we see that by connecting the February high with the April high we get a downward sloped trend line. After rallying for the last few weeks, the stock is now hitting that trend line and it is overbought based on the stochastic readings and the 10-day RSI.
The Tickeron Trend Prediction Engine generated a bearish signal for MGM on June 14. It shows a confidence level of 70% and it calls for a decline of at least 4% over the next month. Past predictions on MGM have been successful 87% of the time.
The fundamentals for MGM are a bit of a concern as well. The company has only seen earnings grow by 6% over the past three years and they were down 55% in the most recent quarter. The management efficiency measurements are below average as well with a return on equity of 7.5% and a profit margin of 6.8%.
Between the trend line on the chart, the bearish signal from the Trend Prediction Engine, and the subpar fundamentals, things aren't looking all that great for MGM right now.