ON Semiconductor moved above its 50-day moving average and hit the lower rail of a trend channel
ON Semiconductor moved above its 50-day moving average and hit the lower rail of a trend channel
Semiconductor manufacturer ON Semiconductor (Nasdaq: ON) fell during the month of May but seems to have reversed its trend in the last month and a half. The stock moved above its 50-day moving average on July 12 and based on previous moves of this type, the stock has moved higher 38 of 42 times.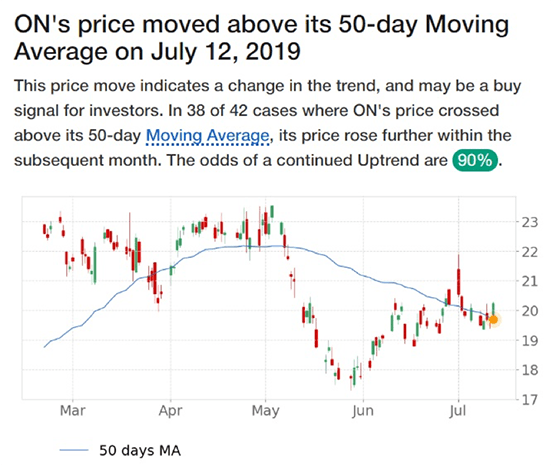 In addition to the move above the 50-day, ON has been trending higher since late May and a trend channel has formed as a result. The stock just hit the lower rail of the channel in the past week. The bounce off of the lower rail took place just as the stochastic readings hit oversold territory and reversed with a bullish crossover on July 12.
ON is scheduled to report earnings on July 29. The company has seen earnings grow by 73% per year over the last three years, but analysts expect the company to see earnings contract by 9% in 2019. Sales have grown by 23% per year over the last three years, but they only grew by 1% in the most recent quarter.
The company has pretty solid management efficiency measurements with a return on equity of 28.1% and a profit margin of 15.2%.