Promising 2020 IPOs to Watch this Quarter
If you're searching for a unicorn, the IPO market is one place you just might find it. Of course, you're just as likely to take a big loss, but getting on board early with an initial public offering has produced its fair share of millionaires. If you do your homework, you could join them.
Before embarking on this particular journey, make sure you know what you're in for. IPOs are offerings from private companies with a desire to be publicly traded. Larger companies, some of which we'll profile here, are easier to research. Smaller firms are a gamble.
To find companies preparing to go public, research the SEC database for new S-1 Forms. These are a requirement for every public company based in the United States. New filings are an indicator that a company is about to go public. That's your lead base. 
Five Steps to Take Before Investing in an IPO
Investing in an IPO isn't like buying stock from your discount broker or building a Robinhood portfolio. Investment banks sell ninety percent of most opening price IPO shares to institutional investors like pensions and hedge funds. Only 10% of the pie actually makes it to retail brokers. 
You'll also need a significant amount of cash to buy in. Major IPOs are looking for investments of $100,000 up to several million. Don't even think about this unless you have that kind of money to spend. There are safer, smaller investments you can get involved in.
If you fit the profile and fully understand the risk, take a look at the to-do list below and check off some boxes. We have several IPO recommendations later in this article that are based on what we have learned about private companies currently planning to go public in 2020.  
Find some objective research on the company. This is more difficult than it sounds because private companies aren't obligated to submit the same level of financial reports that public companies are. You'll need to evaluate profitability, market cap, DTI, and other metrics to make an informed decision.

Make sure the company has a strong underwriter. Who is brokering the public offering? Typically, it will be a large investment bank, but there are boutique brokers who will handle smaller IPOs. These are not necessarily a bad choice. Smaller brokers often give investors opportunities to buy pre-IPO shares.

Read the prospectus thoroughly and fact check it. This document, which you can request from the broker, lays out a risk versus rewards summary and tells you how your invested money will be used. They generally include a number of assumptions, which you should double check with industry and competitor analysis.

Exercise caution. If it sounds too good to be true, it probably is. Your broker would never see it if the IPO was considered a sure winner. Institutional investors would have gobbled up all the shares long before they get to you. Most IPOs the average investor can be a part of come with a significant risk component. 

Wait for the lock-up period to expire. Underwriters typically require investors to hold shares for a period of three to twenty-four months before being able to sell them. If you want for the lock-out period to expire, you may miss on a few opportunities, but you'll have a better chance to bail if the stock doesn't move in the right direction.
Investing Trends in 2020 and IPOs to Watch in Q4
Those who invested in FAANG stocks have done well in 2020. The coronavirus pandemic actually provided a boost to online content providers Amazon and Netflix. We've also seen uptrends in ecommerce platforms (Shopify) and delivery companies (UPS).   
For IPOs, the unexpected unicorn in 2020 is a company called "Beyond Meat" (BYND). It spiked from $75 a share on January 1st to a peak of nearly $195 on October 9th. Expected big earners Uber (UBER) and Lyft (LYFT) have been a disappointment. 
Other investment trends, some of which we've profiled this year, include a surge in robotics and automation, a push for investments in health care and biotech, and renewed interest in companies that make climate controls and sensors for buildings. 
Each of these trends is reflective of the year that 2020 has been. Going forward, there are a number of companies scheduled to go public in the fourth quarter. One of these may well be the unicorn you're looking for. We've compiled a short list of five of these for you to watch. 
Airbnb: The short-term rental site was scheduled to go public in March, but they pushed it back when pandemic shutdowns shuttered the travel industry. The company refiled in August and are expected to launch their IPO this quarter. Despite posting a significant loss this year ($400 million), the valuation is expected to be roughly $18 billion.  

Robinhood: We tend to be somewhat critical of Robinhood users here at Tickeron, but their business model caused a major disruption in the discount brokerage world last year, leading to a major M&A deal between Schwab and TD Ameritrade. With a current valuation of $11.2 billion, Robinhood is expected to go public. It could happen in Q4.  

Doordash: Though seemingly well-positioned for a public entrance, Doordash may want to take a look at the Uber and Grubhub public stock that has been struggling to stay above water this year. On a positive note, Doordash does own 45% of the market share in their space and is currently valued at $16 billion. We'll call this a definite maybe.

Wish: It takes some serious intestinal fortitude to go up against a leviathan like Amazon, but if anyone can do it, Wish can. The company filed a confidential IPO with the SEC on August 31st and is expected to go public this quarter. With a current valuation of $11 billion, the company is solid and could be a big winner to end the year. 

Bumble: This one may not happen until 2021, but there is a slight chance we'll see in in the fourth quarter. Bumble is an online dating app with over 100 million users. That's second only to Tinder, whose parent company Match (MTCH) went from $13.50 a share in 2015 to $128.02 at this mornings opening bell. 
IPOs from Q3 Performance Evaluations
Missing the boat on the IPO isn't always a bad thing. Sometimes the market tells us it would have been a mistake. This year, with a pre-election drop across the board, many of the 3rd quarter IPOs shed some value after promising early results. Now could be the right time to buy in to these companies. Read on to see our Q3 top five list: 
this secretive data mining firm had a valuation of $20 million back in 2015, but some analysts believe that should be closer to $8 million in 2020. All that being said, this could be an interesting buy, and it's cheap ($10 a share).  
 Using Tickeron to Research an IPO
It's difficult to get accurate financial information on private companies who have yet to go public. Many will be willing to share data with you if you are a potential investor, but they are not obligated to do so. You'll have to rely on the prospectus for most of your research.
The areas where our platform can be useful are competitor analysis and evaluating market trends. Use our Tickeron Signals feature to make sure you're well informed and understand the risks and potential rewards of investing in an IPO. Hopefully, you'll find a way to your unicorn. 
BYND's Indicator enters downward trend
The Aroon Indicator for BYND entered a downward trend on May 23, 2023. Tickeron's A.I.dvisor identified a pattern where the AroonDown red line was above 70 while the AroonUp green line was below 30 for three straight days. This could indicate a strong downward move is ahead for the stock. Traders may want to consider selling the stock or buying put options. A.I.dvisor looked at 248 similar instances where the Aroon Indicator formed such a pattern. In of the 248 cases the stock moved lower. This puts the odds of a downward move at .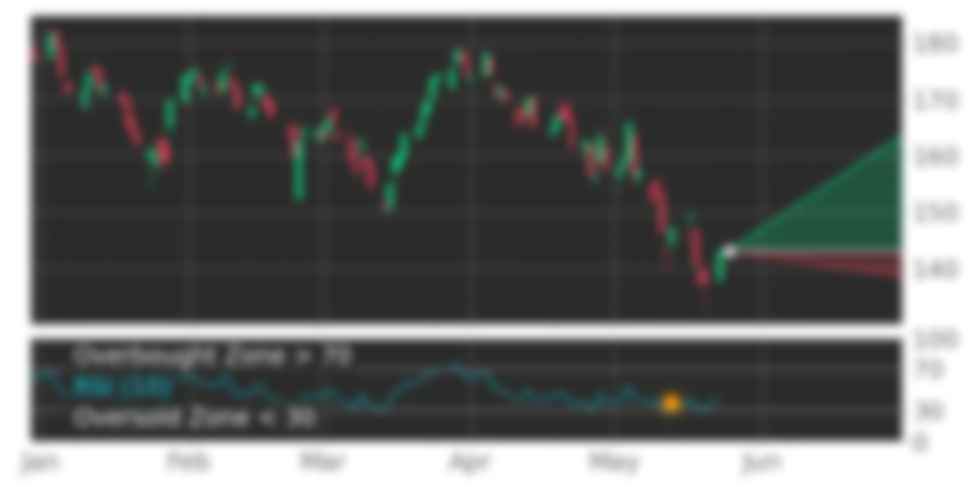 Technical Analysis (Indicators)
Bearish Trend Analysis
The Momentum Indicator moved below the 0 level on May 26, 2023. You may want to consider selling the stock, shorting the stock, or exploring put options on BYND as a result. In of 75 cases where the Momentum Indicator fell below 0, the stock fell further within the subsequent month. The odds of a continued downward trend are .
Following a 3-day decline, the stock is projected to fall further. Considering past instances where BYND declined for three days, the price rose further in of 62 cases within the following month. The odds of a continued downward trend are .
Bullish Trend Analysis
The RSI Oscillator points to a transition from a downward trend to an upward trend -- in cases where BYND's RSI Indicator exited the oversold zone, of 38 resulted in an increase in price. Tickeron's analysis proposes that the odds of a continued upward trend are .
The Stochastic Oscillator suggests the stock price trend may be in a reversal from a downward trend to an upward trend. of 50 cases where BYND's Stochastic Oscillator exited the oversold zone resulted in an increase in price. Tickeron's analysis proposes that the odds of a continued upward trend are .
The Moving Average Convergence Divergence (MACD) for BYND just turned positive on May 23, 2023. Looking at past instances where BYND's MACD turned positive, the stock continued to rise in of 32 cases over the following month. The odds of a continued upward trend are .
Following a 3-day Advance, the price is estimated to grow further. Considering data from situations where BYND advanced for three days, in of 220 cases, the price rose further within the following month. The odds of a continued upward trend are .
BYND may jump back above the lower band and head toward the middle band. Traders may consider buying the stock or exploring call options.
Fundamental Analysis (Ratings)
The Tickeron Valuation Rating of (best 1 - 100 worst) indicates that the company is significantly overvalued in the industry. This rating compares market capitalization estimated by our proprietary formula with the current market capitalization. This rating is based on the following metrics, as compared to industry averages: BYND's P/B Ratio (59.524) is slightly higher than the industry average of (10.025). P/E Ratio (0.000) is within average values for comparable stocks, (34.816). BYND's Projected Growth (PEG Ratio) (0.000) is slightly lower than the industry average of (2.676). Dividend Yield (0.000) settles around the average of (0.057) among similar stocks. P/S Ratio (1.635) is also within normal values, averaging (7.242).
The Tickeron Price Growth Rating for this company is (best 1 - 100 worst), indicating slightly worse than average price growth. BYND's price grows at a lower rate over the last 12 months as compared to S&P 500 index constituents.
The Tickeron PE Growth Rating for this company is (best 1 - 100 worst), pointing to worse than average earnings growth. The PE Growth rating is based on a comparative analysis of stock PE ratio increase over the last 12 months compared against S&P 500 index constituents.
The Tickeron SMR rating for this company is (best 1 - 100 worst), indicating weak sales and an unprofitable business model. SMR (Sales, Margin, Return on Equity) rating is based on comparative analysis of weighted Sales, Income Margin and Return on Equity values compared against S&P 500 index constituents. The weighted SMR value is a proprietary formula developed by Tickeron and represents an overall profitability measure for a stock.
The Tickeron Profit vs. Risk Rating rating for this company is (best 1 - 100 worst), indicating that the returns do not compensate for the risks. BYND's unstable profits reported over time resulted in significant Drawdowns within these last five years. A stable profit reduces stock drawdown and volatility. The average Profit vs. Risk Rating rating for the industry is 79, placing this stock worse than average.
Notable companies
The most notable companies in this group are Mondelez International (NASDAQ:MDLZ), General Mills (NYSE:GIS), Kraft Heinz Company (The) (NASDAQ:KHC), Campbell Soup Company (NYSE:CPB), Beyond Meat (NASDAQ:BYND).
Industry description
A specialty/candy manufacturer specializes in one or more of the following: chocolate, candies, pasta, condiments, seasonings, among other items. Hershey Company, McCormick & Company and J.M. Smucker Company are some of the major firms in this segment. Demand for this industry's products comes from both institutions/restaurants as well as households.
Market Cap
The average market capitalization across the Food: Specialty/Candy Industry is 7.67B. The market cap for tickers in the group ranges from 17.17K to 319.07B. NSRGY holds the highest valuation in this group at 319.07B. The lowest valued company is MSLP at 17.17K.
High and low price notable news
The average weekly price growth across all stocks in the Food: Specialty/Candy Industry was -1%. For the same Industry, the average monthly price growth was 5%, and the average quarterly price growth was 37%. PSYCF experienced the highest price growth at 45%, while QQFSF experienced the biggest fall at -35%.
Volume
The average weekly volume growth across all stocks in the Food: Specialty/Candy Industry was 21%. For the same stocks of the Industry, the average monthly volume growth was 30% and the average quarterly volume growth was 20%
Fundamental Analysis Ratings
The average fundamental analysis ratings, where 1 is best and 100 is worst, are as follows
Valuation Rating: 49
P/E Growth Rating: 56
Price Growth Rating: 53
SMR Rating: 69
Profit Risk Rating: 79
Seasonality Score: 10 (-100 ... +100)