Three Falling Peaks Formation for Dollar General
Three Falling Peaks Formation for Dollar General
Discount retailer Dollar General (NYSE: DG) has held up better than most stocks in recent weeks, which is supported by a relative strength rating of 92 from Investor's Business Daily. The relative strength rating measures a stock's price performance against all other stocks in the database over the past year and assigns a score of 1 through 99. A score of 92 means the stock has performed better than 92% of stocks.
Unfortunately for DG, it looks like a bearish pattern has formed on the stock. With a peak of $118.13 in November, a peak of $112.85 in December and a possible peak at $110.71 on Friday, it looks like a Three-Falling Peaks formation has formed.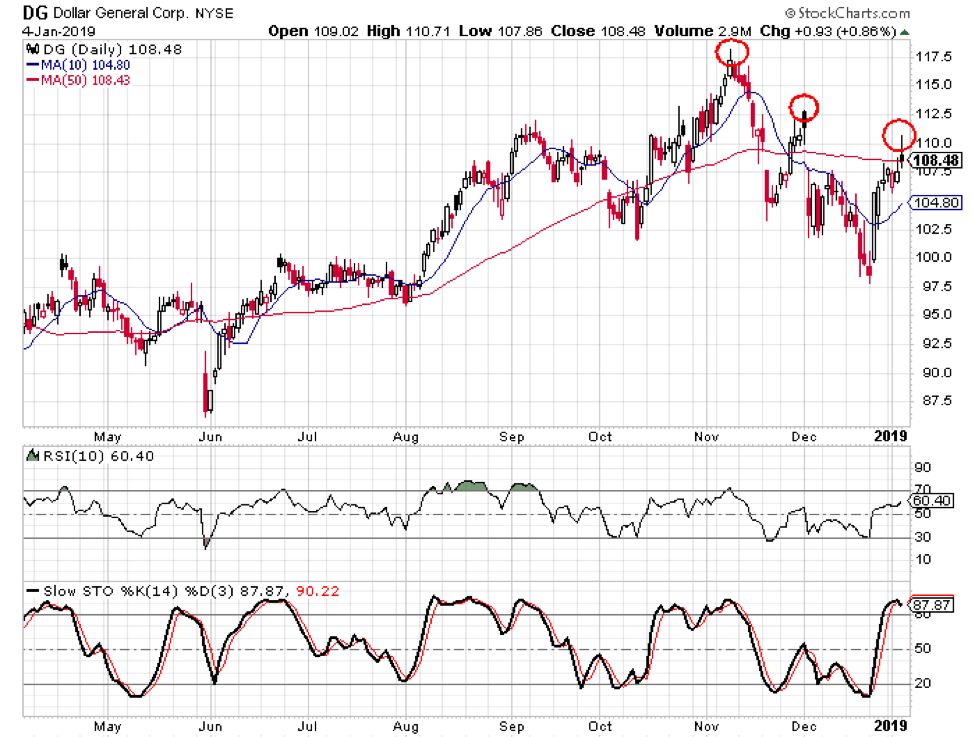 The stock jumped sharply from its low on December 24 and it became overbought based on the daily stochastic readings. The peak in November came when the stock was overbought and then we saw the stochastic readings make a bearish crossover like the one we saw on Friday.

Dollar General's fundamentals are somewhat mixed. The earnings growth for the company has been good with an average annual growth rate of 11% over the last three years. The company saw earnings grow by 34% in the most recent quarterly report and analysts expect the company to grow earnings by 31% for the year as a whole.
Unfortunatel,y the earnings growth figures are much stronger than the sales growth and the profitability measures. Sales have grown at a pace of 8% per year over the last three years. The profit margin is only 7.24% and the operating margin is only 8.36%. This presents a bit of a conundrum for investors.