Two Layers of Support Could Help Automatic Data Processing (ADP)
Automatic Data Processing (Nasdaq: ADP) is a human resource outsourcing firm, offering clients payroll, benefits administration, compliance and other services. The stock has been trending higher over the last few years before pulling back in this recent market downturn. There could be some good news, however, as the stock hit two levels this week that could act as support and help propel it higher.

In August, the stock dipped down to the $128 level before rallying up above the $150 level in early October. The stock dipped down to the $128 area again on Thursday before bouncing back.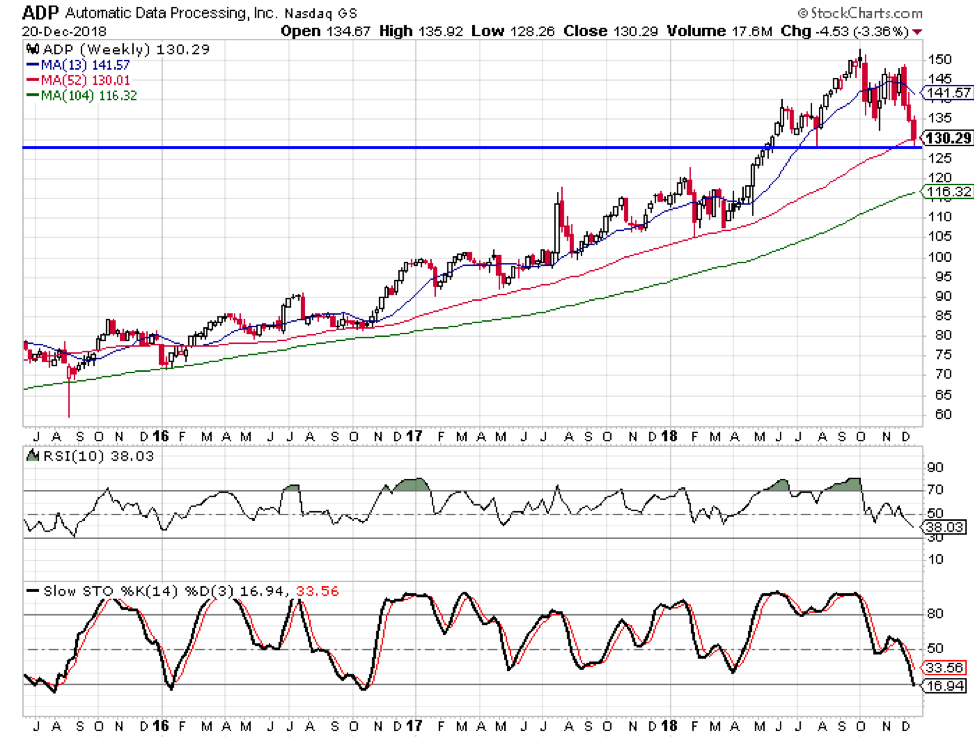 The stock also dipped below its 52-week moving average this week, which is the first time it has dipped below the trendline in October 2016. From that point, the stock rallied from the $81.50 area to $115 within the year.
ADP scores very well in its fundamental ratings. The company gets an 89 rating in Investor's Business Daily's EPS rating system and it gets an A in the SMR category. The company has seen its earnings grow by 15% per year over the last three years and sales have grown by 7% per year during that same time period. The company boasts a return on equity of 52.2% and a profit margin of 19.7%. As good as those fundamental statistics are, they haven't helped much during this recent slide in the overall market. If we see a bounce in the overall market, companies with strong fundamentals should see the biggest benefit.