Verizon's (VZ) Daily Chart Suggests it Could be Ready for a Bounce
The daily chart on Verizon Communications (NYSE: VZ) is an interesting one for a number of reasons. First, the stock has held up remarkably well in recent months as most other stocks were falling. The second item of interest is the regression line for the last nine months and the stock's relationship with that regression line.

The middle blue line is the regression line. I drew the two outer lines and they are parallel to the regression line as you can see. What I found to be extremely interesting was how the upper line connected highs and the lower rail connected lows. Yes, it forms a trend channel, but I found it amazing how they parallel the regression perfectly.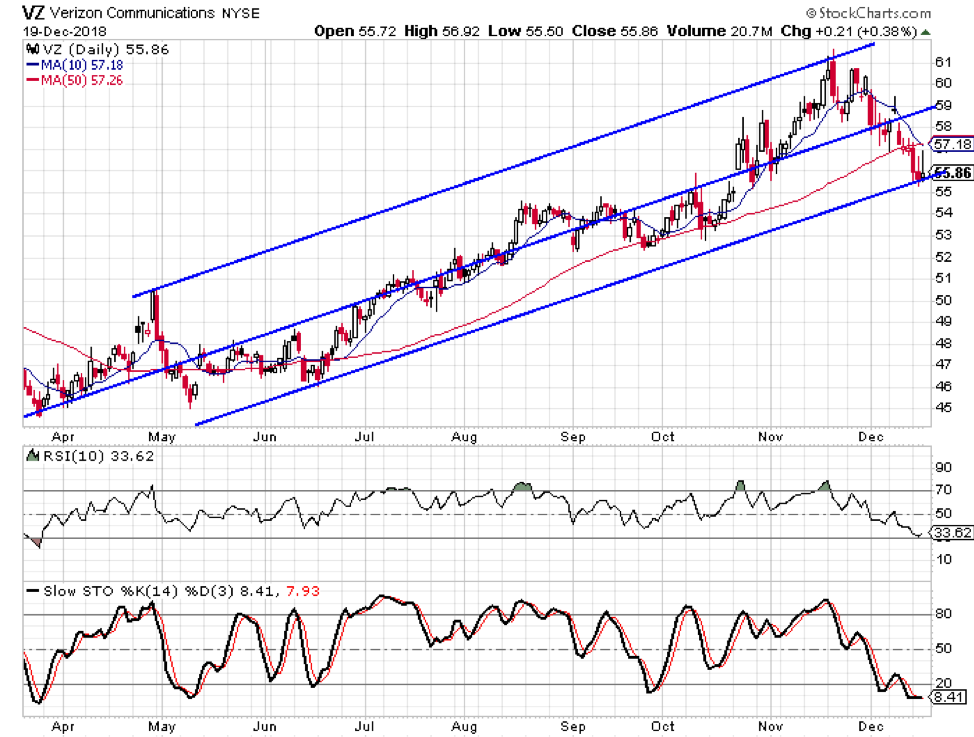 I also took note of how the upper rail is further from the regression line than the lower rail. I do a lot of work with trend channels and can't say that I have seen too many channels like this one. I wish I could say the slope of the trend being upward is why the stock seems to be allowed to venture further from the regression line on the upside than the downside, but I don't know if that is true or not.
The company's fundamentals are above average. Verizon scores a 78 on Investor's Business Daily's EPS rating system, and it gets a B in the SMR ratings. A 78 rating on the EPS means that the company's earnings growth is better than 78% of companies in IBD's database. The SMR ratings range from A to E with A being the best. It measures sales growth, profit margin, and return on equity. Verizon's B rating is above average, but not the highest score.