American Airlines hitting downward sloped trend line and receives a bearish signal
Over the last few days, I have received several bullish signals on oil and oil companies. I even wrote about Devon Energy yesterday and the bullish signs it was showing. In somewhat of paired possibility, There are bearish signs surfacing on American Airlines (Nasdaq: AAL).
If we look at the daily chart, the stock has been trending lower since last September. Connecting the highs from September and December creates a trend line and the stock has just brushed up against this trend line in the last few days.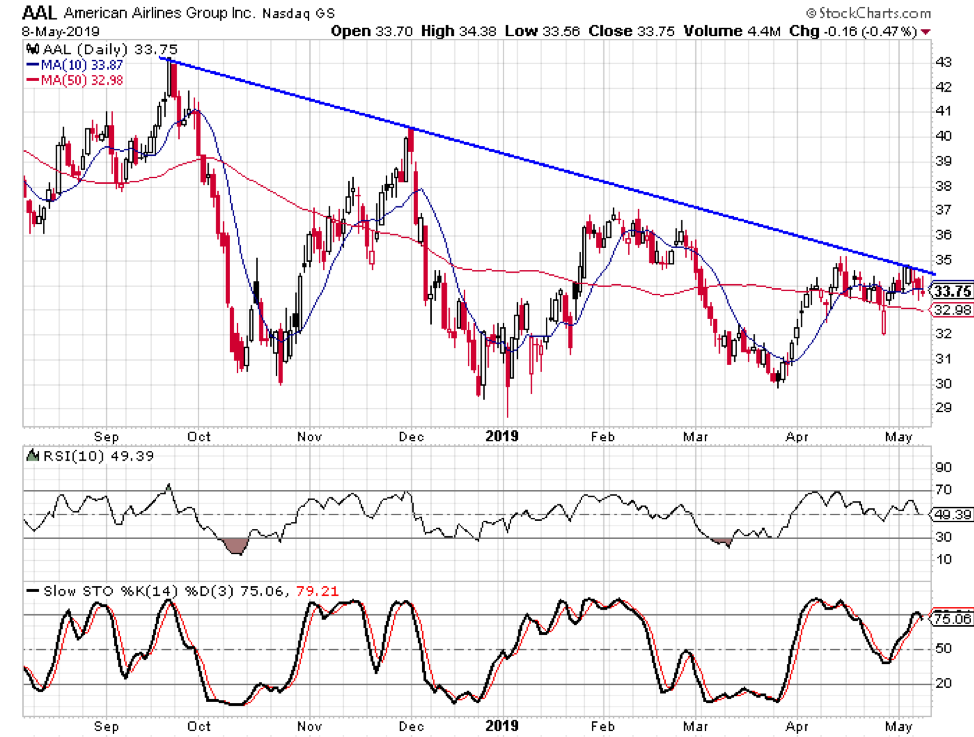 The stochastic readings had barely moved in to overbought territory in the last few days, but a couple of down days caused the indicators to move out of overbought territory and make a bearish crossover.

The Tickeron AI Trend Prediction tool generated a bearish signal for American on May 7 and the signal shows a confidence level of 69%. The signal calls for a decline in the stock of at least 4% within the next month. Previous predictions on American have been successful 71% of the time.
I hate to be blunt, but the fundamentals for American aren't very good. The company has seen earnings decline by an average of 18% per year over the last three years and they were down 30% in the most recent quarter—that's on a year over year basis. Sales have only grown at a rate of 4% per year over the last three years and the profit margin is a paltry 6.3%.