Introducing the Tickeron AI Screener - the ultimate investment and trading tool. With its advanced algorithms, this tool makes it easy to select what to invest in and what to trade.
With coverage of over 4,000 stocks, 1,000 ETFs, 30,000 mutual funds, 500 cryptocurrencies, and 100 Forex pairs, the AI Screener generates accurate buy/sell recommendations. Plus, it provides buy/sell recommendations for groups of stocks, combined by industries, themes, and indexes.
Choose from our preset "popular filters" or create your own filters for your preferred selections. Our filters include proprietary fundamental ratings, technical indicators, patterns, market cap fluctuations, volume and price changes, and more. Additionally, our scanners are add-on features that can track the end-of-day performance of your watchlists and portfolios.
When you purchase the Tickeron AI Screener, you'll receive a complimentary intermediate subscription (valued at $20 per month). And as a bonus, Tickeron's daily buy/sell recommendations are available on all products and tools on our website.
Got questions? Our customer support team is always ready to assist you. You can also access webcasts, videos, and 1-on-1 lessons to learn more about the Tickeron AI Screener. Don't miss out on this incredible tool - try the Tickeron AI Screener today!
What is AI Screener and How it Works
Looking to categorize and compare stocks? Look no further than our A.I.-powered Screener tool. With just a few clicks, you can generate a near-endless amount of trade ideas. Simply select "Screener" at the top of the page and click on "Screener Home" to get started.
At first glance, the sheer number of options available might seem overwhelming. But fear not! We're here to guide you through the process of using the powerful filters available to your advantage.
Best of all, our Screener Home page is completely free and accessible to everyone, with no login required - even to see the Odds of Success. Check out the example below to get a sense of what the Screener Home looks like before any filters are applied:
So why wait? Start using our AI Screener tool today to uncover the top-rated and lowest-rated industries for your desired period.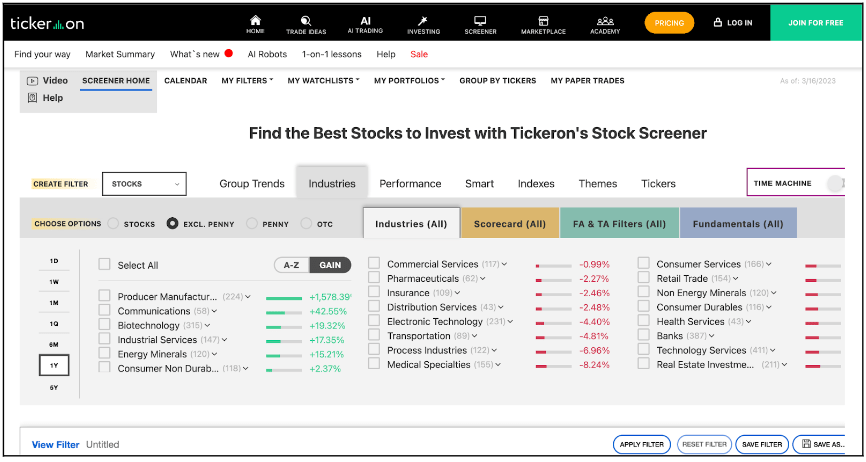 Looking for a better way to manage your stock screening and watchlist? The second level menu provides easy access to saved filters in "My Filters" and saved ticker sets in "My Watchlists". The Home tab offers a quick and efficient way to select and sort securities with specific qualities, such as market cap, price change, and Odds of Success based on a particular indicator.
With the click of a tab, you can select search criteria previously added to your personal list, including "My Filters," "My Portfolios," and "My Watchlists," making it simple to add new stocks to your watchlist for future reference. For those who prefer to compare specific stocks, the "Search by Tickers" function provides an easy-to-use interface to compare multiple stocks side by side.
Take control of your investments and streamline your stock research with our powerful tools. Try it out today!
Stock tickers are set by default but you can change asset classes (ETFs, Mutual Funds, Forex, Crypto)
Traders have a vast range of options available to them, offering ultimate flexibility when searching for trade ideas. For instance, on the right-hand side of the 'STOCKS' section, there are six types of searches available: Group Trends, Industries, Performance, Smart, Indexes, Theme, and Tickers. These search options provide information that can also be added manually to obtain the same results. However, the 'Smart' tab offers an ideal way to combine search criteria to generate a specific set of stocks suitable for any strategy or analysis. By utilizing any of the presets in conjunction with specified search criteria, you can generate and analyze a unique set of stocks or ETFs.
After selecting your desired filters, toggling between technical and fundamental analysis, fundamentals raw data, earnings, dividends data, A.I., and Human Intelligence predictions on a particular stock or ETF is a breeze. Just remember to click the "Apply Filter" button once you have selected all the search criteria you need.
For most of the search criteria available on the Screener, definitions are readily accessible by clicking the "Definitions" link located above the list of stocks resulting from your search. This link provides a clear explanation of each criterion, helping you make informed decisions when selecting filters for your searches.
Looking for more information on a specific indicator? Clicking on the 'Articles' section under the 'Academy' tab at the top is an excellent resource. You can easily search by keyword to learn more about the indicators and their application. If you're interested in Tickeron's proprietary indicators, you can find definitions under the Fundamental Analysis section of any stock's Summary tile.
To gain insight into how the Odds of Success are calculated in this part of the Screener, head over to the Technical Analysis tab.
Tickeron's algorithm calculates the Odds of Success for each indicator by analyzing the number of times the signal accurately predicted a trend and comparing it to the total number of occurrences for that stock. These odds are updated daily, setting Tickeron apart from others in the market.
Each of our A.I.-discovered signals comes with its own Odds of Success, which are calculated and updated every day. The Screener reflects the odds from one day ago, two days ago, and so on for each signal that's being tracked. This means you have access to a daily check-in for every signal, as well as any signals missed within the past month.
Leveraging this proprietary tool can help you make more informed trades backed by empirical evidence and statistics. By staying up-to-date with the latest odds, you can increase your chances of success in the market.
How to Subscribe to AI Screener:
Q. What parts of Tickeron Screener are free, and which are premium?
A. Tickeron offers the most advanced screener on the internet, with most of its features available for free to improve your trading experience. However, purchasing a screener unlocks access to all search results, rather than the standard limit of five tickers.
After extensive backtesting and consultation with our loyal members, we've made the Group Trends and Scorecard features premium. These unique and proprietary features can be accessed by purchasing Tickeron Credits.
Furthermore, you can gain free access to the AI Screener by purchasing AI Robots. Find out more about AI Robot purchase credits on our website.
Q. How can I optimize my screener?
A. To get the most out of your screener, you may want to consider purchasing premium products such as the AI Trend Prediction Engine or Buy/Sell Daily Signals. These powerful tools not only provide valuable insights into the market but also integrate seamlessly with your screener to display their results.
Other related products are available for the credits above:
We invite you to check out our other premium products -- they'll help you be best prepared to take on the market. Some of the premium products that might be helpful for a new trader are the AI Pattern Search Engine and the AI Trend Prediction Engine. For a continuing trader, AI Real Time Patterns is a great way to pinpoint exactly what you're looking for and to monitor the securities for an extended time.